A foodie guide for Corfu: Get to know 10+1 traditional Corfiot products
To what extent could food actually affect your choice when it comes to your next holiday destination? Well, in case you are opting Corfu, you will not be disappointed at all - from exquisite delights and spicy-flavoured cold cuts to monovarietal wines and polyphenolic olive oils, Corfu will indisputably fulfil your expectations regarding its local food! Get to know the 10+1 traditional Corfiot products in this ultimate foodie guide for Corfu.
The 2nd largest Ionian Island (otherwise known as "Eptanisa"), Corfu, has some well-kept secrets for the ultimate foodies - hidden delicatessens distorted in the maze of the narrow "kantounia" streets of Old Town, local breweries and wineries almost secluded in traditional villages, as well as olive oil mills and apiaries spotted in the Corfiot countryside. All these places promise that you discover Corfiot homemade products and clandestine recipes, thus giving you the perfect "aftertaste" of your holidays in Corfu.
Hence, prepare your palate and get ready to explore the top-rated Corfu products made with "meraki" by local Corfiot producers. And if you wish to delve deeper, book a food & walking tour in the heart of Corfu Old Town so as to gain the utmost of this once-in-a-lifetime experience.
Eat in Corfu: Kumquat
The king of Corfu products is no other than the fruit of kumquat. This orange-golden fruity treasure has been the inspiration for many local, artisanal products among which the famous ones are kumquat liqueur, kumquat marmalade and spoon sweet, as well as kumquat chutney. Of course, nowadays many Corfiot entreprises have made a step forwards, thus providing us with exceptional delights such as baklava with kumquat, kumquat flavoured mandola and nougat, even sparkling refreshments or fresh juices with kumquat flavour!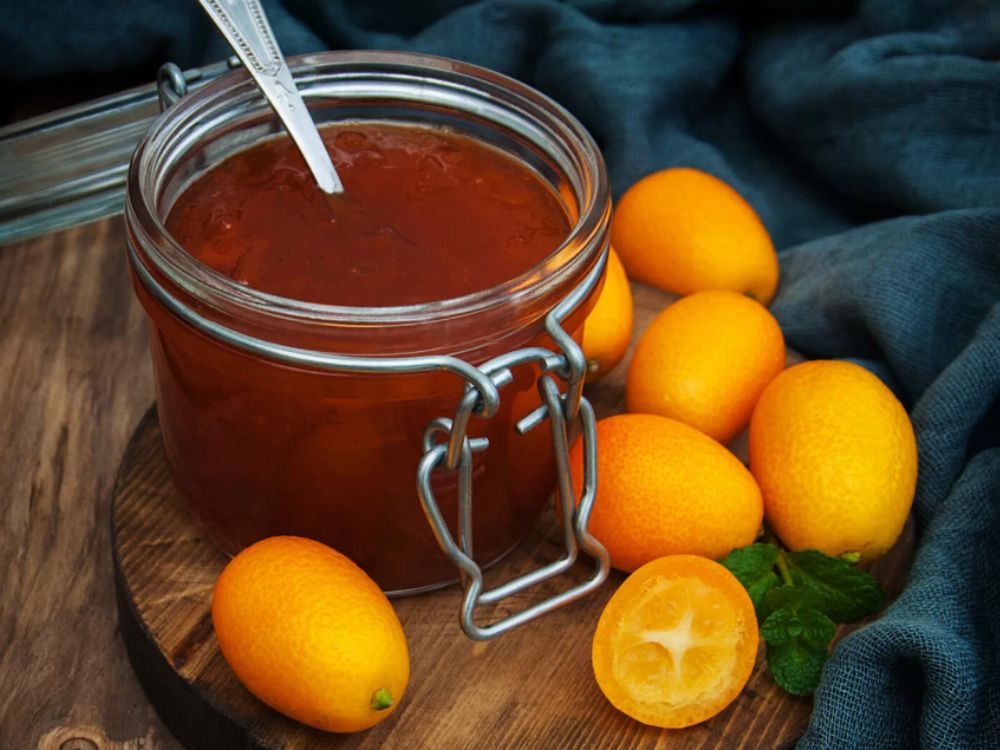 Drink in Corfu: Ginger beer

The ultimate summer refreshment: nothing to be compared with a rejuvenating bottle of ginger beer! Brought by the British during the 19th century, ginger beer, or else referred as "tsitsimpira", has long been the trademark for Corfu Island. According to history, ginger beer was quite popular over the years under the British Rule, whereas it had been slowly integrated and favoured by the locals who finally considered ginger beer an essential part of the cultural and gastronomic identity. Made with everyday ingredients such as lemon juice, grated ginger, dry yeast and water, ginger beer of Corfu is thought to be not only revitalising but also therapeutic, preventing nausea and heart diseases.Take a sip under the hot, summer sun and it will immediately level you up!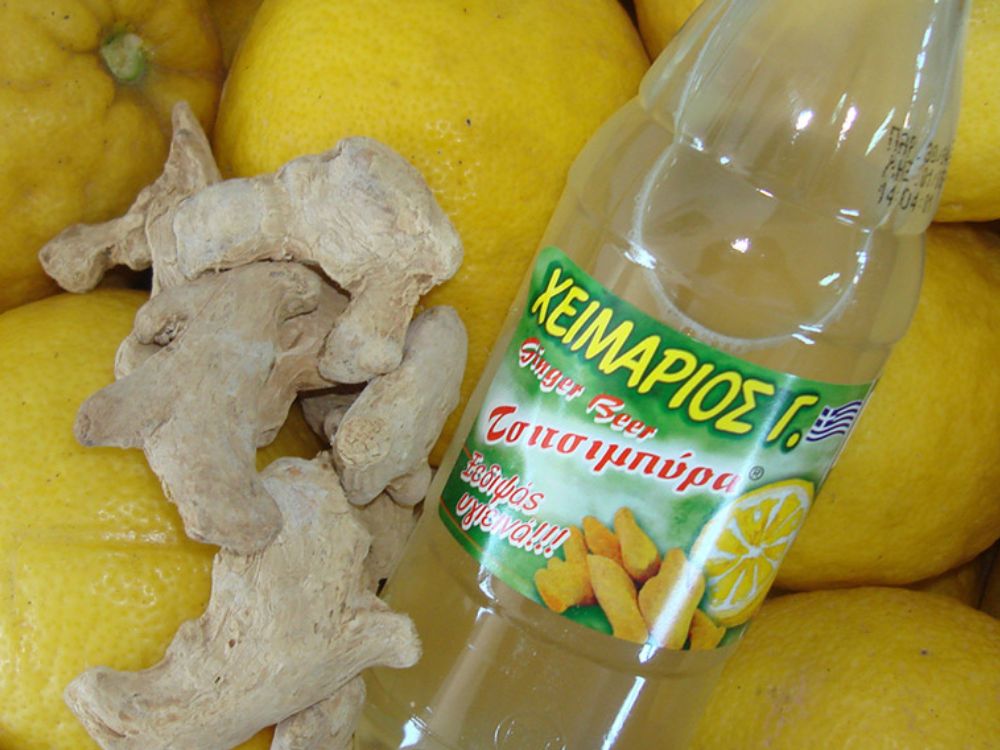 Ginger beer
Credits for the photo: https://www.e-corfu.com/chimar...
Eat in Corfu: Nouboulo fumicado
It has long been deemed as the gift of Venetians: Nouboulo fumicado is the deli meat which prevails in every Corfiot platter. Alternatively known as the "sausage of Corfu '' or the "Corfiot prosciutto", nouboulo finds its origins in the Venetian era, whereas it can be made either out of pork or beef. However, according to the tradition, nouboulo is actually a piece of pork sirloin, marinated in coarse salt and Corfu red wine with oregano pepper sprinkles - others prefer to marinate it with sage, pennyroyal, gorse, laurel, etc. Either way, it is the absolute Corfiot finger food, whilst it is ideal for pasta, salads and along with other charcuterie varieties. Tip: Do not forget to accompany it with traditional cheese, nuts, dried fruits and a glass of white wine; there you are, you have made the best Corfu cheese and cold cut platter!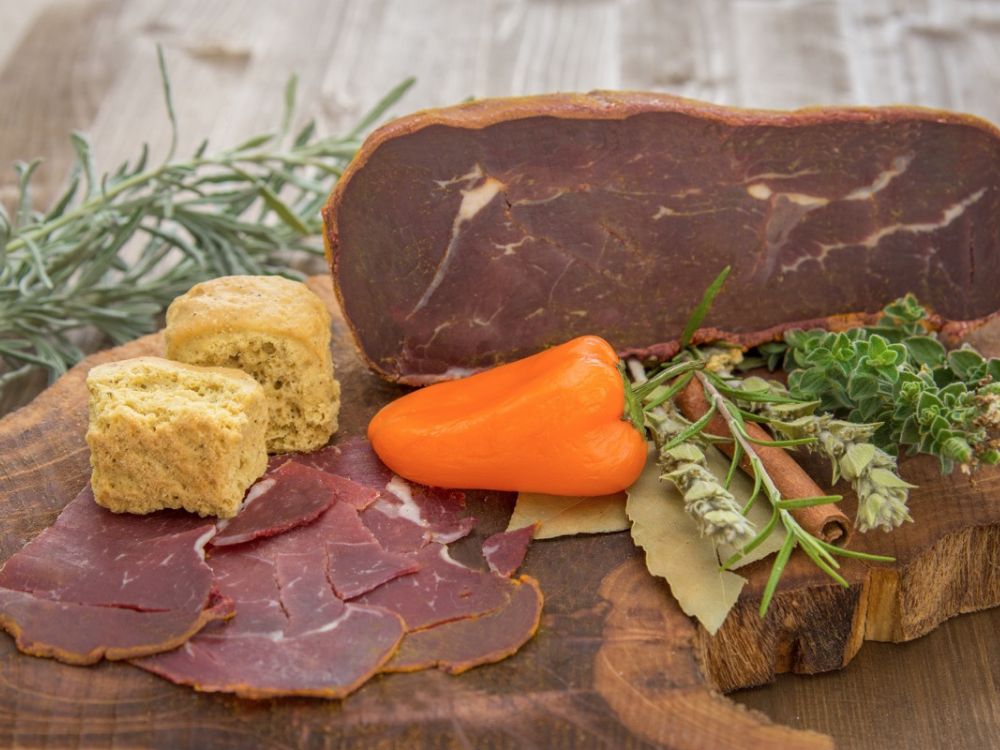 Nouboulo fumicado
Credits for the photo: https://www.greekbreakfast.gr/...
Drink in Corfu: Corfu beers
Corfu is not only famous for its ginger beer; on the contrary, there is a local microbrewery with top publicity! Corfu beer has been established in Corfu since 2006 and it has been producing all kinds of beers; from the typical pilsner and lager beer to the most famous one being the red and dark ale. And for those who are not keen on sampling "dense-flavoured" beers, Corfu beer has introduced a product line of refreshments and alcoholic beverages. Either way, do not miss the chance to try out some of their products - besides, do not forget that as long as its production is so small, Corfu is the only place all over Greece where you will find them!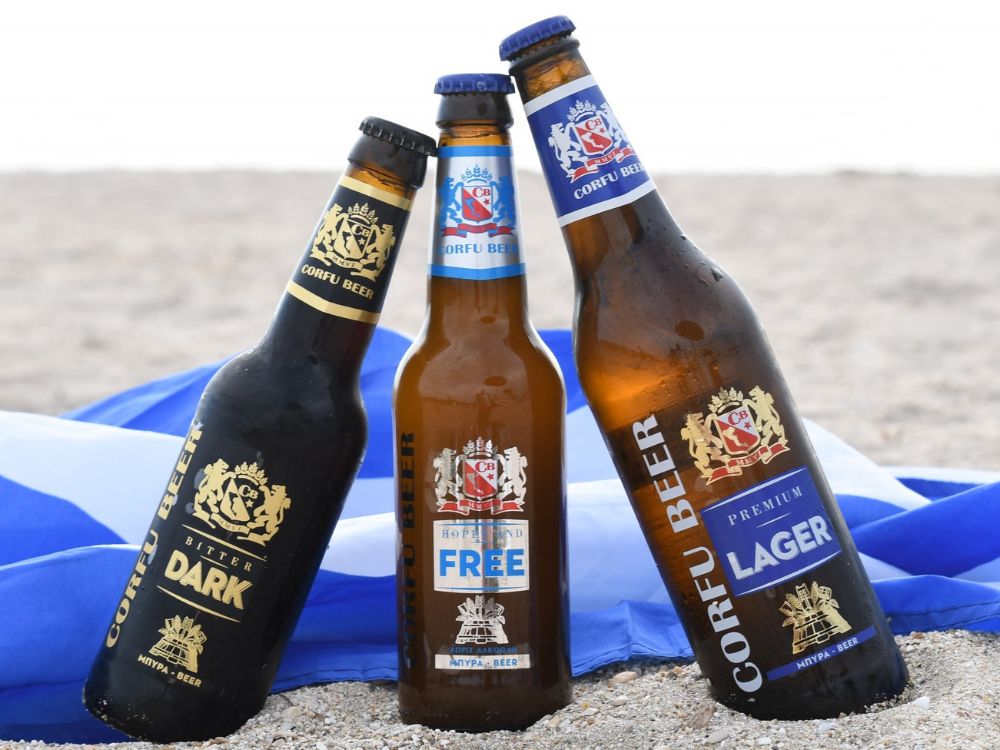 Corfu beers
Credits for the photo: https://corfubeer.com/
Eat in Corfu: Corfu butter
To begin with, we have to make it clear that Corfu butter belongs to the most famous ones all over Corfu. This traditional Corfu's butter is made of cow's milk and buttermilk by using the churning technique, while the finalised products come after fermentation which confers its distinctive sour taste. Even though it is fermented, Corfu butter has a full-flavoured body thanks to the cow's diet since the flora of Corfu consists of many herbs and plants such as chamomile, hyacinth and orchids. It is to be noted that despite its genuine and unique production in Corfu, it has never been given a PDO certification.
Corfu butter
Credits for the photo: https://www.travel.gr/en/food-...
Taste in Corfu: Corfu olive oil
Corfu is known as the land of olive oil; a simple question of "how many olive trees are there in Corfu?" can simply confirm the above statement. With more than 4 million olive trees, Corfu olive variety has a prominent place in the Greek olive oil production not only for its centenarian existence but also for its exquisite taste and therapeutic properties. The Corfu olive variety, alternatively known as "Lianolia", is a small-fruited variety which gives aromas of cherry blossoms and cinnamon whereas it has a bitter aftertaste. It is to be highlighted, though, that Corfu olive variety is known for its therapeutic properties thanks to its high polyphenolic content and its low acidity. If you are keen on sampling this "golden treasure", have a tour to the Olive Oil Mill where the fabled Corfu olive oil "Governor" is being produced - the first Corfu olive oil which has been awarded with "Health Claim".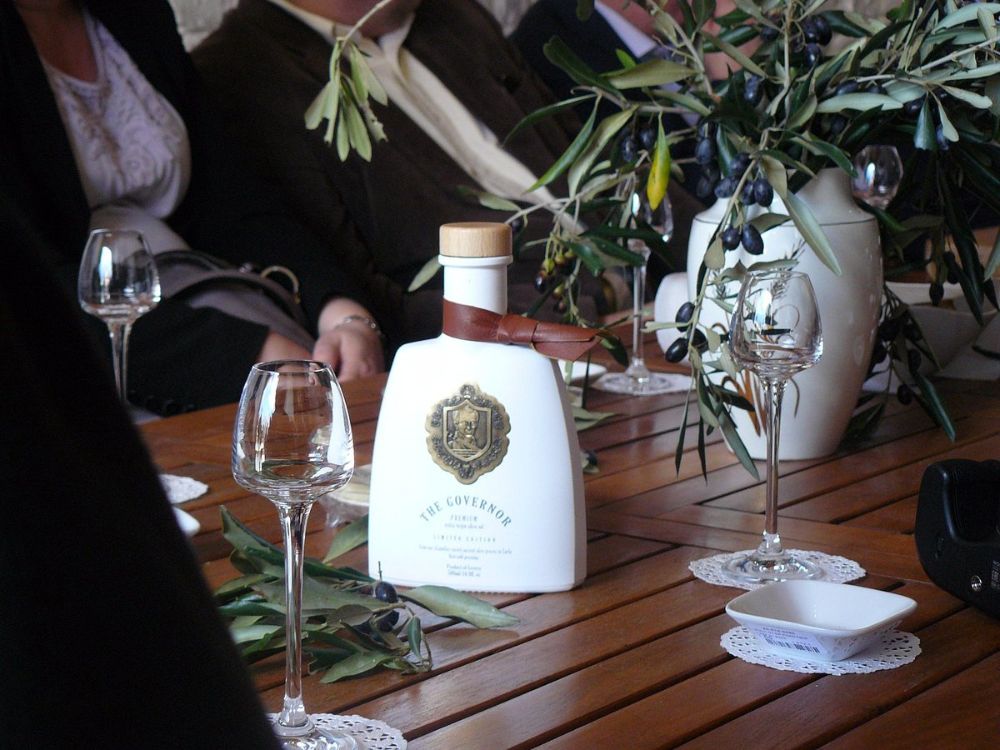 Governor olive oil
Drink in Corfu: Limoncello
Limoncello: the famous Italian liqueur! Having passed from the Venetian era up to this day, Limoncello is from now on interwoven with Corfiot culture and gastronomy. According to the traditional recipe, Limoncello comes after the extraction of lemon peel in alcohol and the addition of syrup complements the final composition of the liqueur. Highly aromatic and delightful, Limoncello is served as "digestivo", whereas it can be perfectly combined with fruits salads, cakes and tarts as well as it can be a perfect ingredient for many cocktails.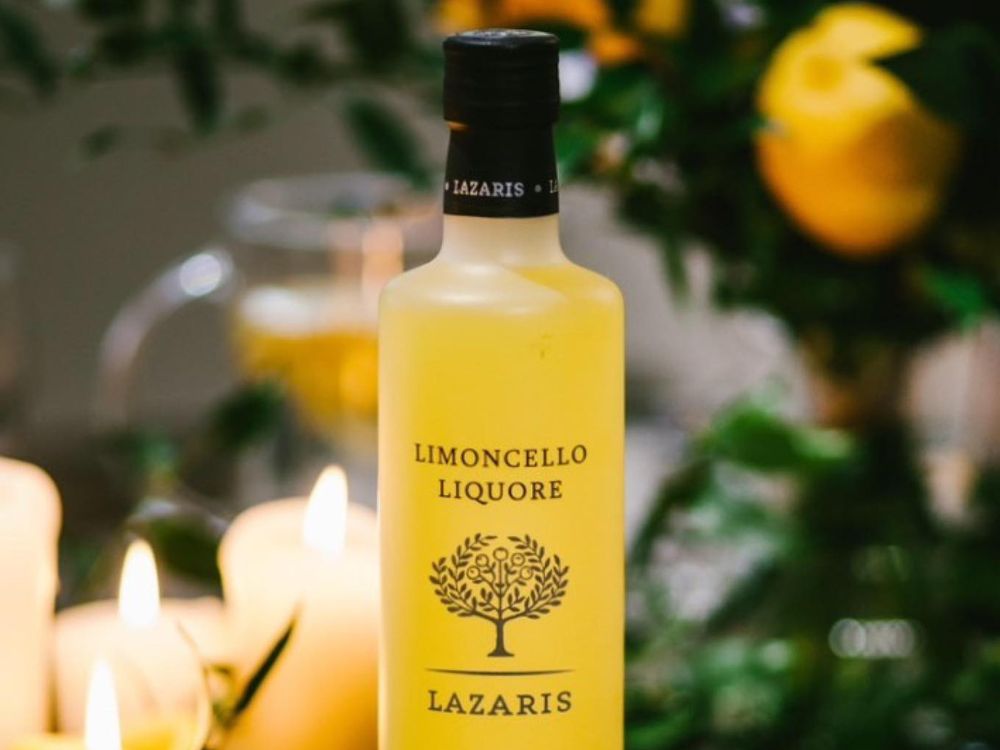 Limoncello
Credits for the photo: https://lazarisartisan.com/en/...
Eat in Corfu: Salado
The word "salado" comes from the Spanish word which means "salted meat". However, when it comes to Corfiot salado, it is about the traditional Corfiot salami made with high-quality pork and beef, marinated in sea salt, pepper, garlic, Corfiot herbs, and aromatic plants. Salado is then hung and smoked with aromatic plants and oak wood. It is the perfect Corfu "mezes" and it can accompany alcoholic beverages such as local wine, beer and tsipouro.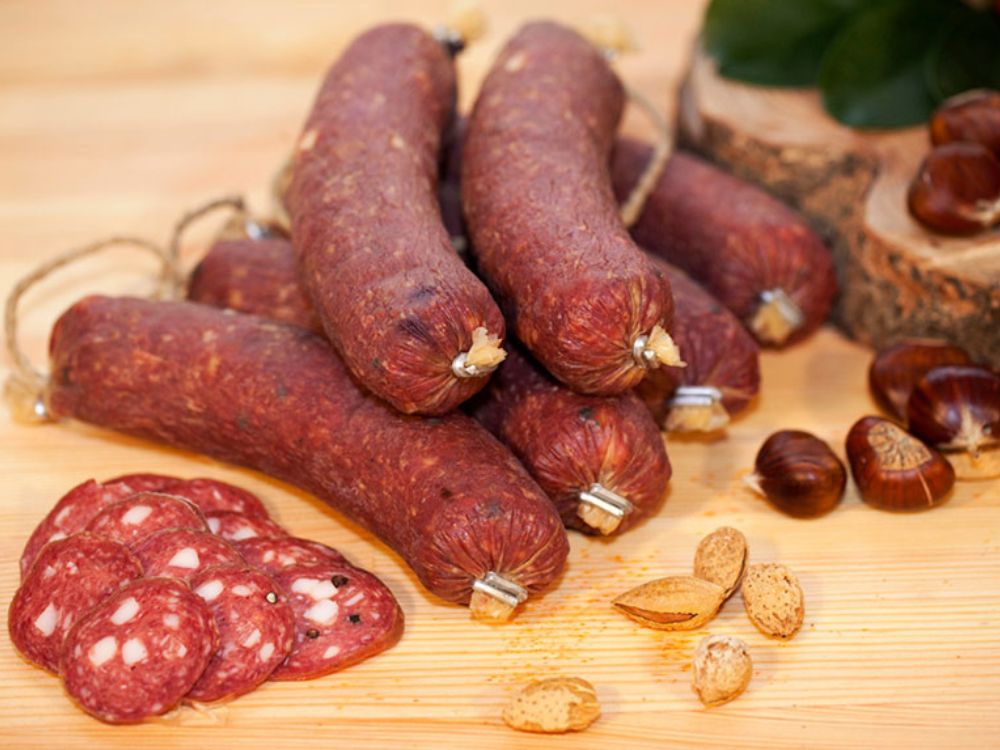 Salado
Credits for the photo: https://www.corfuland.gr/el/di...
Drink in Corfu: Corfiot wine
Along with Corfu beers and the traditional ginger beer, Corfu is famous for its local wine varieties: Kakotrigis, Petrokoritho and Skopelitis. These hard-to-find varieties can only be tasted in Corfu, since its small production prevents them from being exported in other places in Greece. However, there are many wineries which produce high-qualitative wines from wine varieties that are being cultivated in other Ionian Islands, such as "Robola" from Cephalonia. In case you are fond of sampling Greek wines, then a wine-tasting tour seems like an ideal option. Have your wine-tasting tour in one of the oldest wineries known as "Theotoki Estate" and create some exquisite moments during your holidays in Corfu.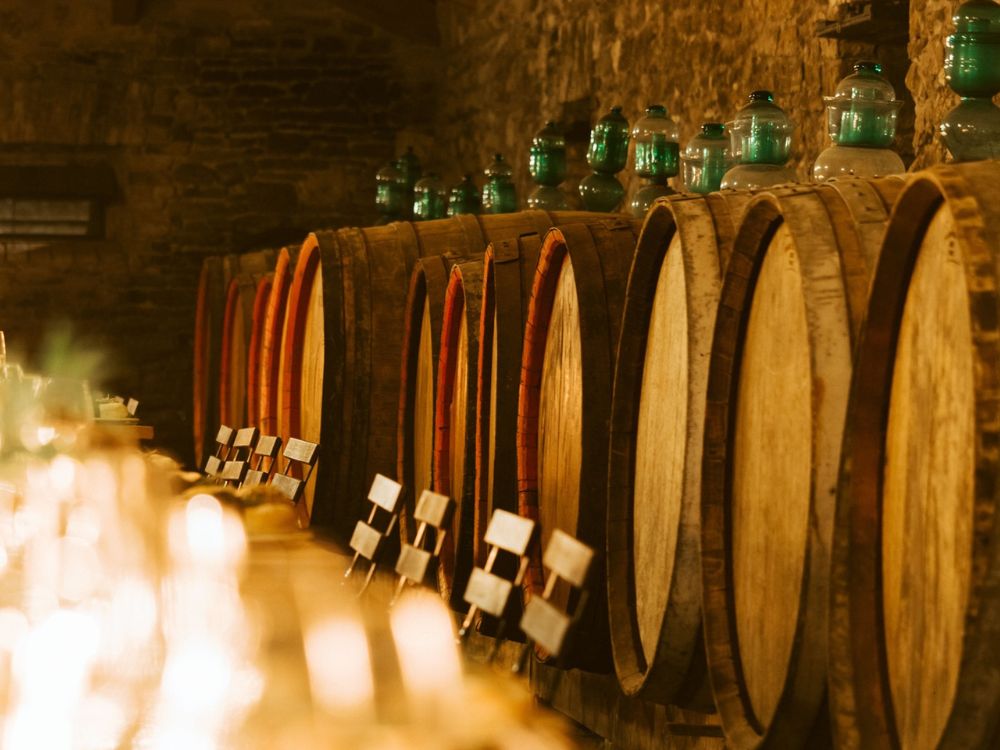 Theotokis Estate - Winery
Credits for the photo: https://www.theotoky.com/
Eat in Corfu: Fig pie
Another sweet delight of Corfu is extremely proud: the famous Fig Pie or in Greek known as "Sikomaida". This traditional Corfiot sweet delight comes from a paste of dried figs which are marinated in red wine and flavoured with Greek ouzo, anise, fennel seeds, and black pepper. Today, modern "sykomaida" also contains kumquat liqueur, brandy, chocolate, etc. Certainly, this traditional Corfiot fig pie can be eaten straight, however it is an exceptional addition in many salads or in a cheese-cold cut platter.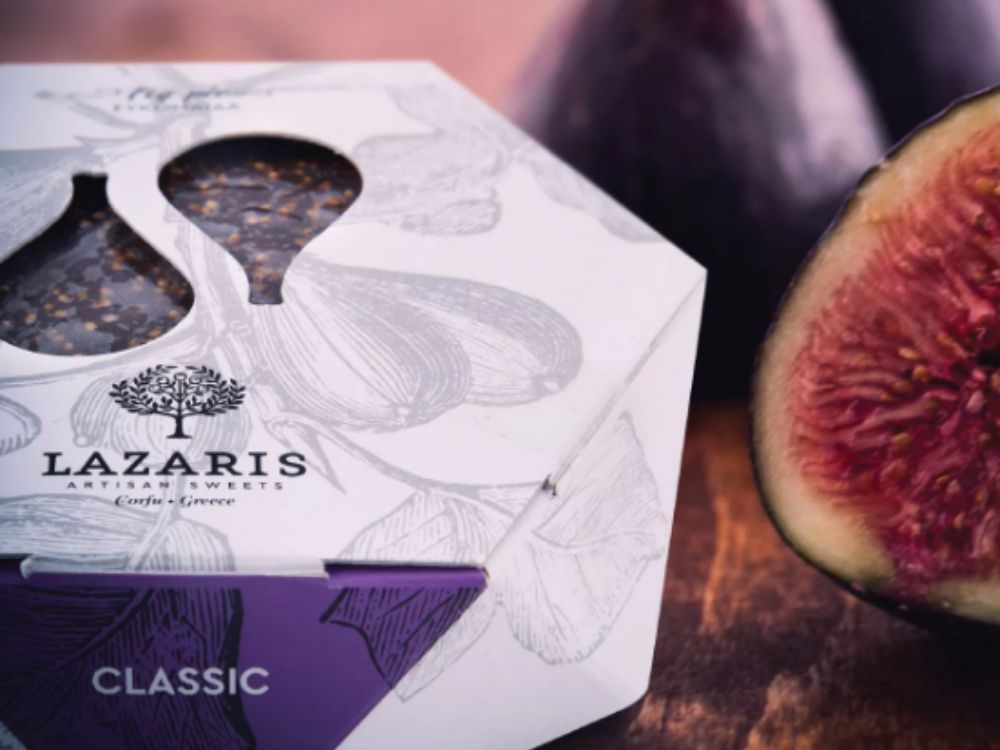 Fig pie
Credits for the photo: https://lazarisartisan.com/
Taste in Corfu: Corfu honey
Last but not least, there is no way that we skipped the traditional Corfiot honey. Corfiot honey can be found in different varieties; from the most common one being the blossom honey to forest honey, orange-blossom honey , it is without doubt that you will love it in your breakfast! Apart from the typical honey, Corfu also produces organic honey, royal jelly and pollen.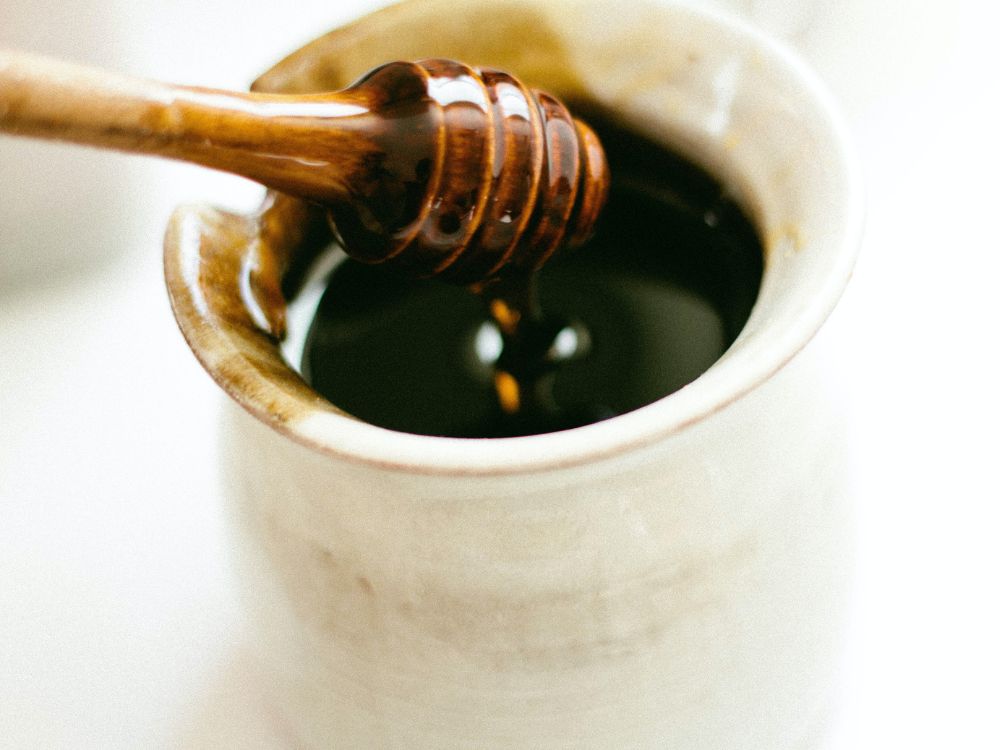 Corfu honey
Hence, whether you are a committed food lover, or you just venture for gastronomic adventures, we hope that this foodie guide helped you a lot! So, if Corfu is not one of your next top holiday destinations, then you better reconsider it. Food, architecture, natural landscape, history and nightlife are some examples of what Corfu promises.