A member of the sun-splashed Ionian Islands, the lush Green island of Corfu is undoubtedly one of the most beautiful islands of Greece. Among others, Corfu is famous for its stunning beaches, endless lush green landscapes and fascinating historical sights, all of which have turned it to one of the most popular cruising destinations in the Mediterranean. The island is also blessed with a multicultural heritage, with evident influences from the Venetians, British and French who all occupied the island for centuries and left something behind. These influences can be experienced everywhere - architecture, gastronomy, culture and language.
Are you visiting Corfu on a cruise ship and wondering what is there is to do in Corfu on a cruise? Corfu has something for everyone and if you are visiting for the first-time, it can be quite overwhelming deciding what to do and where to go. Read some of our best tips for cruise ship passengers visiting Corfu and explore with us the best things to do in Corfu if you are stopping on a cruise.
Tips for cruise ship passengers arriving in Corfu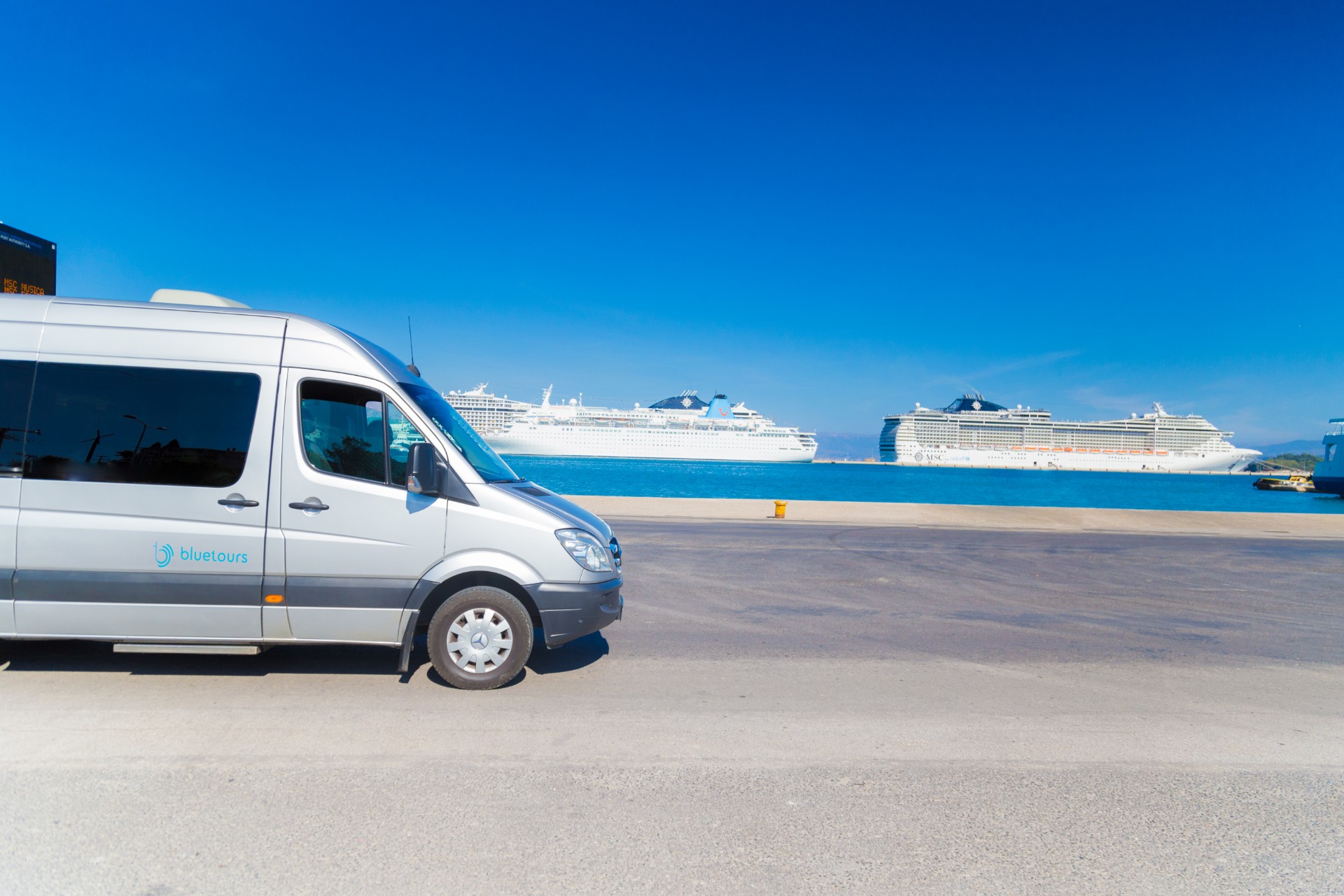 Here are some of our best tips for cruise ship passengers visiting Corfu on a cruise ship aiming to make your arrival to Corfu as easy as possible:
Your cruise ship will be docking in Corfu port (Neo Limani) and you will be able to exit the ship with the help of a ramp. There is usually no need for tender boats in Corfu port, which will help maximize the time that you have available on the island.

Once you step out from your cruise ship, there is usually a free shuttle bus which will take you to the Corfu cruise port terminal building in less than 2 minutes. You can also walk to the terminal (5-10 minute walk depending on the exact location where your cruise ship has docked).

Corfu Town is located approximately 3 km far from Corfu port so you can walk from Corfu Town to Corfu port in almost 30 minutes. Please note though that the walk can be unpleasant on a rainy or very hot summer day.

Alternatively, you can get to Corfu Town in approximately 10 minutes by public bus (approximately 1,70 euros per person) or taxi (around 10 euros per ride). Both of them can be found outside Corfu cruise port terminal but there are often very long queues so we strongly suggest prebooking your transportation.

Arriving in Corfu on a cruise ship means that you will usually have a few hours to spend on the island. In order to make the most of your valuable, limited time, we highly recommend that you do your research and plan in advance. Do not leave anything to the last minute to avoid disappointment.

Except for Corfu Town, you cannot walk from Corfu port to any other places of interest. So, if you are interested in exploring the island further (highly recommended!) the best way to do it is through a Corfu Private Shore Excursion.
If you want to read more details on how you can get around Corfu Cruise port, once you arrive, you can also check our ''Visiting Corfu on a cruise ship'' blogpost.
Top things to do in Corfu for cruise ship passengers visiting on a cruise ship
Corfu is a large island with so many things to do and see! When arriving in Corfu port on a cruise ship, you will usually have only a few hours available on the island so you want to know in advance what there is to do in Corfu so that you can plan before your visit and make the best of your valuable time on the island. With so many options around, deciding what to do can be quite challenging! But there is no need to worry, that's why we are here, to help you make the best choice! Here are some ideas about the top things to do when visiting Corfu on a cruise ship including Corfu's most popular attractions, sights and places to visit based on what YOU love the most - that's what matters the most anyway.
1. Explore Corfu's beaches- Shore excursions for Sun Seekers and Beach Lovers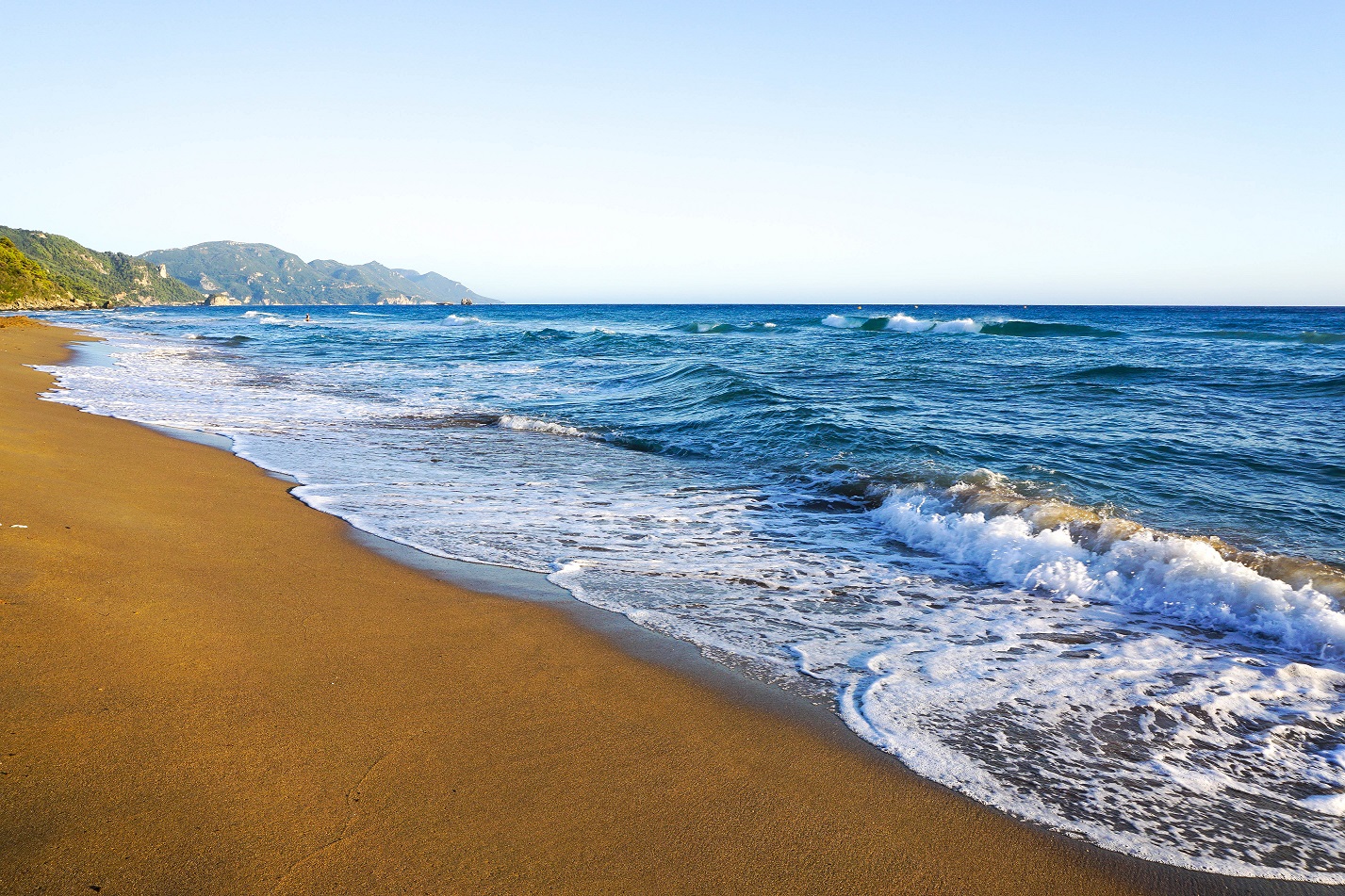 Are you dreaming of a relaxing day on a Corfu beach? Want to dive into Corfu's emerald waters while soaking up Corfu's brilliant sunshine? Then leave your cruise ship behind and let us take you on an exciting Corfu beach shore excursion to two of Corfu's most beautiful beaches– Glyfada beach and Paleokastritsa beach. Glyfada Beach is only a 30-minute drive from your cruise ship! Located on the west coast of Corfu, Glyfada is a very well organized sandy beach, offering a wide range of facilities including sunbeds and umbrellas, water sports facilities, little shops and beach bars. Dive into the lovely turquoise waters for a refreshing swim, soak up Corfu's brilliant sunshine on your sunbed or if you feel more active, you can try one of the exciting watersports like jet-skiing, water-skiing, banana rides and pedalos. During this tour, you will also have the chance to visit the world-famous coastline of Paleokastritsa, home to crystalline waters, beautiful bays and breathtaking caves that can be explored with boat trips departing regularly from the main beach. Alternatively, you can also combine your visit to Glyfada beach with Corfu Town in our Private Glyfada Beach and Corfu Town Shore Excursion.
2. Discover Corfu's lush green nature- Shore Excursions for Nature Lovers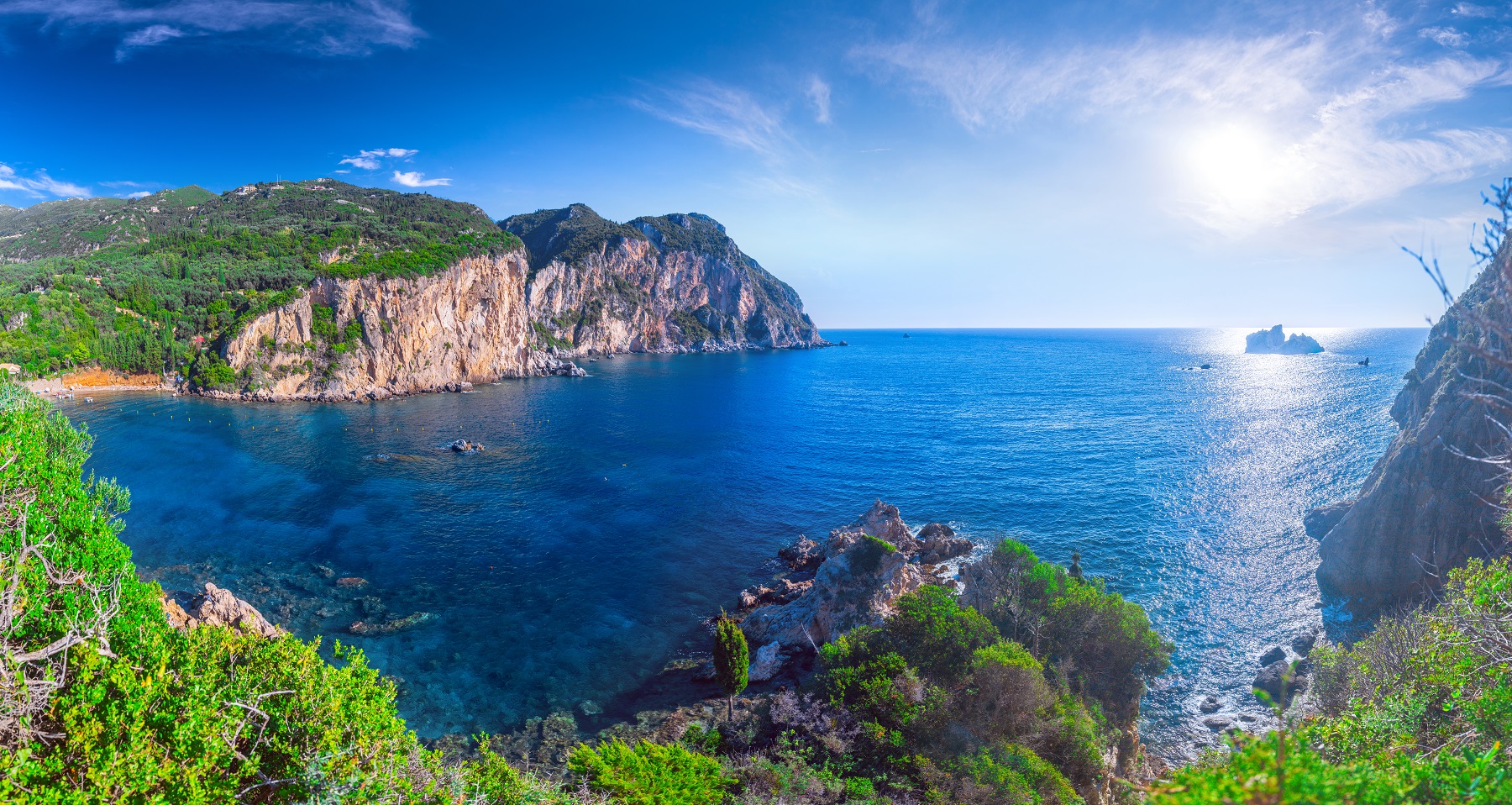 If you love nature, then you've come to the right island! From the minute that your cruise ship approaches the port and you get your first sight of Corfu, you will immediately realize why it is known as the ''Green Island''! The wonderful lush greenery of the countryside with its impressive 4.5 million olive trees and elegant cypresses will quite simply take your breath away! One of the best parts of the island to enjoy nature is Paleokastritsa, renowned for its breathtaking natural beauty - combining green scenery, breathtaking caves, imposing rock formations, and crystal clear waters! On the hill above Paleokastritsa, there is also a hilltop 13th-century monastery which offers spectacular views out to the sea. Paleokastritsa is located on the northwest coast of Corfu and it is an approximately 40-minute drive from Corfu port. It is widely considered one of the top attractions of Corfu and it is included in most sighteeing tours including our Private Shore Excursion Paleokastritsa and Corfu Town.
3. Delve into The History & Culture- Shore excursions for Culture Enthusiasts & History Buffs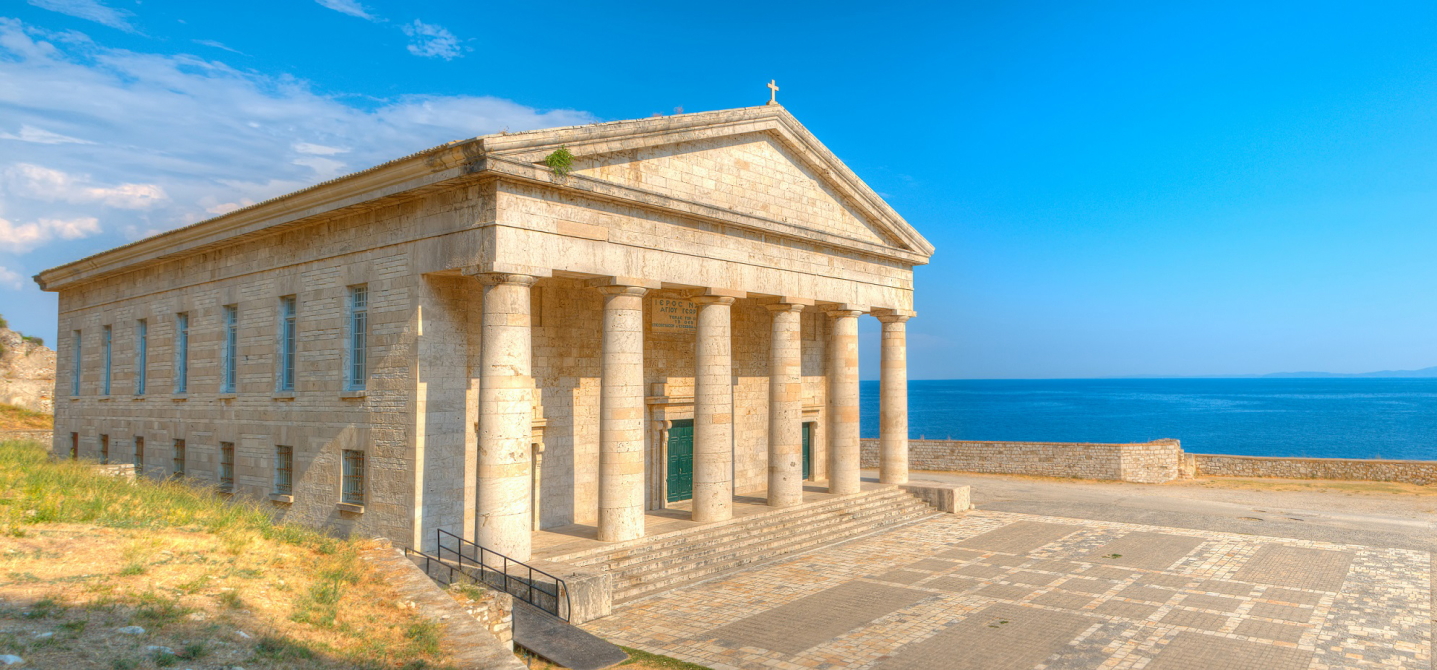 Corfu has an impressive history dating back to ancient times! At different periods of time, Corfu was occupied by the Venetians, French and British leading to the unique multicultural heritage that can be witnessed on the island. You can discover some of this history by visiting Achillion Palace, built by Empress Elisabeth of Austria – better known as Princess Sissi– at the end of the 19th century. Wander through the magnificent gardens with statues from Greek mythology and history and discover the world of the ''Sad Empress'' inside the palace with the original furnishings and her personal belongings. Visit then Kanoni to capture the famous views of the Mouse Island and the whitewashed church of Vlacherna. Finally, head to Corfu Town – a UNESCO World Heritage Site – and delve into its ancient history and multicultural heritage. Explore the Town's main historical sights such as the Old and New Venetian Fortresses, the Palace of St. Michael and St. George, the Old Town Hall, which used to be a Venetian Opera House, and the arcaded French-style Liston, where you can also sit and enjoy a coffee. Dive into Corfu's history and culture with our Private Shore Excursion: Achillion, Kanoni and Corfu Town or our Private Corfu History Tour: Corfu Ancient and Modern.
4. Enjoy the thrill of adventure through a Jeep Safari- Shore Excursions for Adventure Seekers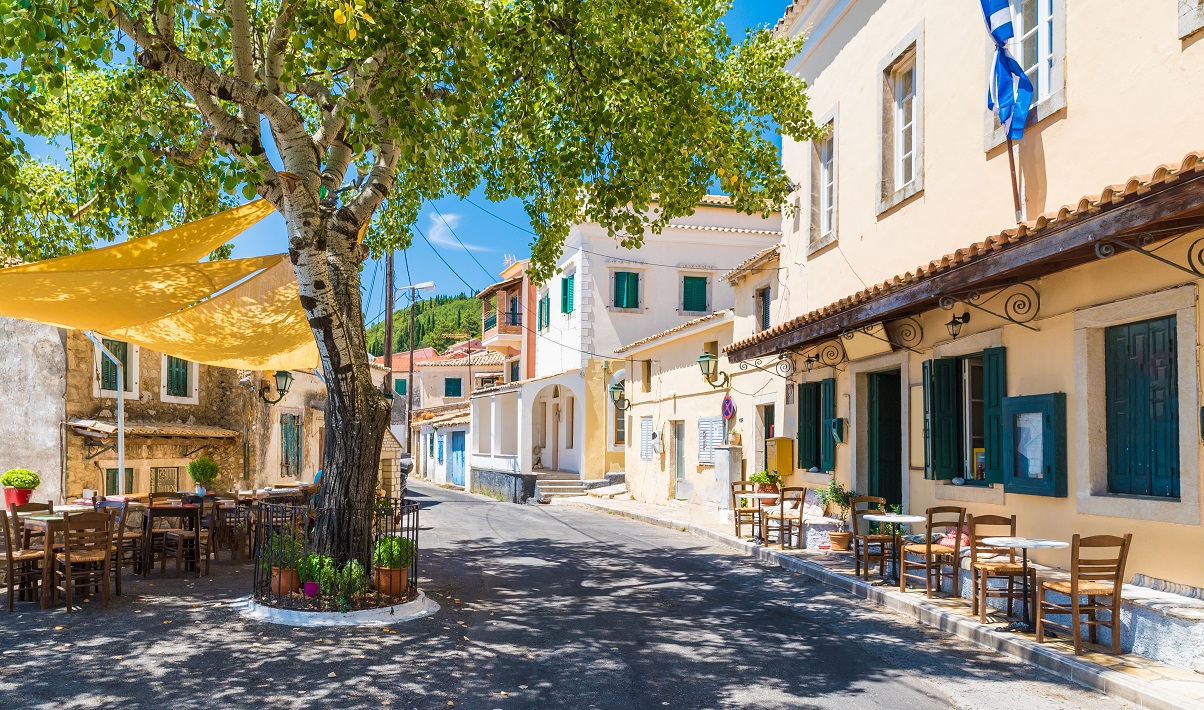 If standard sightseeing tours don't ''do it'' for you and you're looking for some real adventure, then a Corfu Private Jeep Safari off the beaten track could be perfect for you! Led by your experienced driver/guide, board your private jeep, travel off the road, and discover a different side of Corfu which cannot be explored in typical sightseeing tours. Travel along winding roads and stony trails through olive groves, up mountains, and discover the picturesque villages of Corfu along with other hidden gems of the island's beautiful countryside. During the tour, you will also enjoy an informative commentary on the island's history and culture, from your knowledgeable driver and enjoy plenty of opportunities for photos stops. This tour also includes a light lunch, paired with a glass of local wine, in a café with spectacular views. If you loved the Jeep Safari tour idea, you can find more information here: https://www.bluetours.gr/tours-and-activities/corfu-jeep-safari
5. Indulge in the delicious Corfiot and Greek gastronomy-Shore Excursions for Food Lovers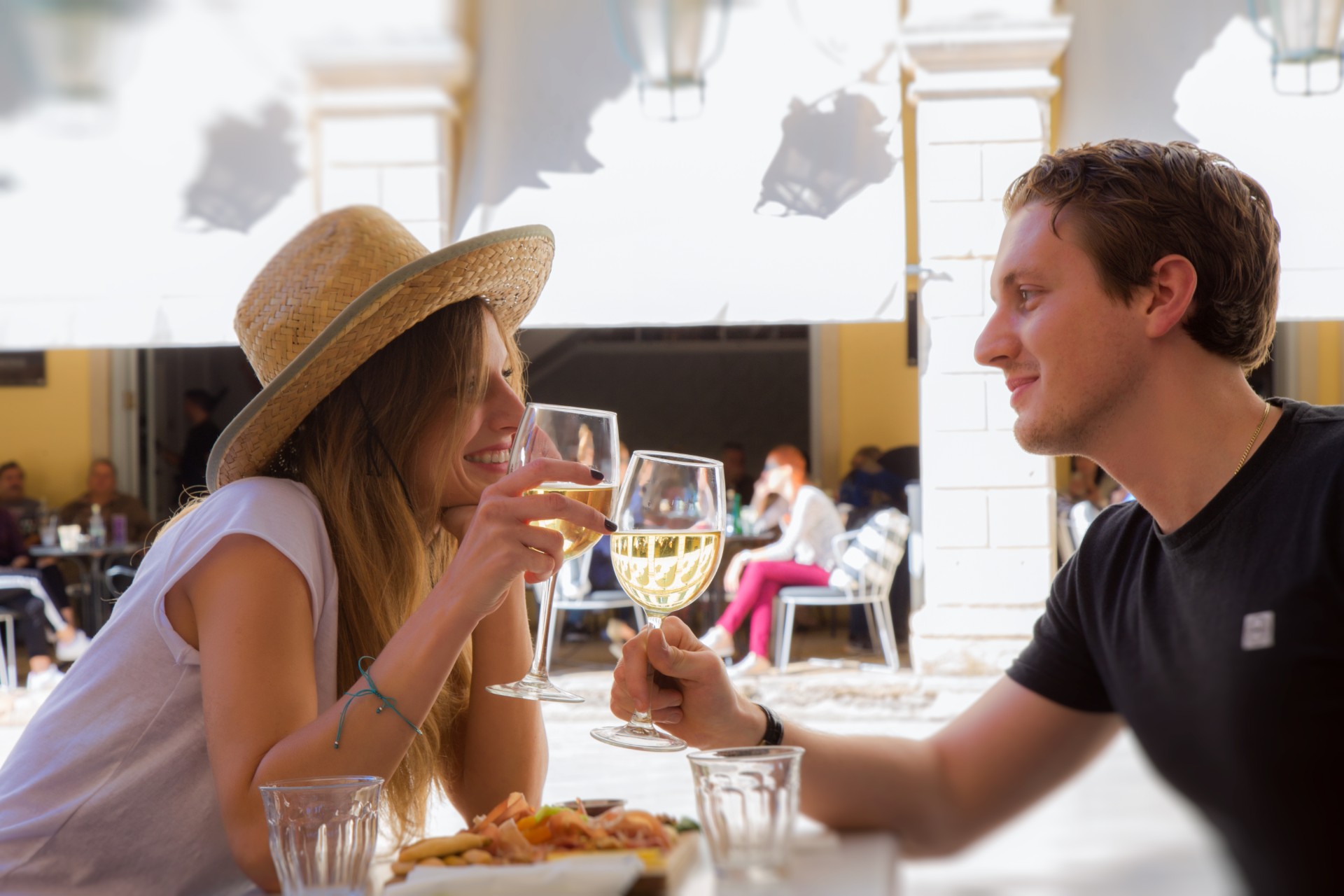 Are you a foodie that loves exploring different cuisines? Then you have to take our Private Corfu Food Walking tour! We will take you to the best local food stops and eateries of the town where you will have the chance to sample the local dishes and specialities of Corfu cuisine. Enjoy a typical Greek breakfast in a small bakery in the heart of Corfu Town offering the most delicious Greek pastries. Have the chance to taste the famous Kumquat liqueur - Corfu Signature drink - and pop into a traditional grocery shop to taste a selection of Greek cheeses and cold cuts. Take a stroll along the open-air food market where local vendors sell the freshest fish, food and other local delicacies. Your tour ends at a traditional local taverna where you can savour the most mouthwatering local dishes including Sofrito & Pastitsada accompanied by a glass of ouzo or local wine! Here's more information on Corfu Food Walking tour: https://www.bluetours.gr/tours-and-activities/private-tour-corfu-walking-food-tour
Why book your shore excursion with Blue Tours
Blue Tours Corfu is ranked No1 on TripAdvisor in the categories: Corfu Transportation, Tours and Private Tours. We are a small, Corfu tour company, we love what we do and we are committed to providing only exceptional travel experiences to our guests which have been rewarded with 99% excellent reviews on TripAdvisor and Google. We are also proud to have received the prestigious award by the 2019 Travel & Hospitality Awards as well as the ''Silver Travel Experience Award'' in the 2020 Greek Tourism Awards, the biggest awards in the Greek Tourism Industry.
We believe that booking your Corfu shore excursion with Blue Tours Corfu is the best way to explore in Corfu. If you book your Corfu Tour with us, our team will be waiting as close as possible to your cruise ship holding a sign with your name on it. We will also track your cruise ship and will know if you arrive earlier or later than planned to make sure that we wait at the right time for you. Our driver will give you a warm welcome in Corfu, answer to any questions that you may have, so that you can begin your exciting Corfu experience to discover the best of our island. All you have to do is sit back, relax and enjoy your exciting Corfu shore excursion.
Here are 10 reasons why you should book your shore excursion with Blue Tours:
1. Ranked No 1 in Corfu Private Tours on Trip Advisor with 99% 5 star reviews
2. Award-winning company (''Tour Company of the Ionian Islands in 2019 and Silver Travel Experience Award'' in the 2020 Greek Tourism Awards 2020)
3. Small, local tour company with local expertise
4. Tailor-made tour itineraries
5. Modern, air-conditioned vechiles
6. Lower prices than cruise ship shore excursions
7. Professional, English-speaking guides (other languages can be provided on request)
8. Easy, Online Booking
9. Our team will pick you up as close as possible to your cruise ship with a special license instead of the busy Corfu cruise port terminal.
10. Free cancellation up to 72 hours before your tour.
Still can't make up your mind on what's best for you? Check out all our Corfu Shore Excursions or contact us to discuss your travel plans further.