Saying goodbye to Corfu - even for the day - can be hard but we bet that these exciting Corfu boat trips will help you forget all about it! Corfu is an amazing island with a fascinating Town, many picturesque villages, breathtaking nature and hundreds of things to do on the shore. When travelling to Corfu, don't limit your experience to its beautiful shore, as the Ionian Sea is a true paradise, boasting crystalline waters, golden sands and many hidden gems that should not be missed! Taking a Corfu boat trip not only the best way to explore Corfu's picturesque coastline but also the bunch of idyllic, nearby destinations and islands. Here we have put down some of the best Corfu boat trips which will allow you to discover some of the best-kept secrets of the Ionian Sea which cannot be experienced in any land tour. Grab your hat, swimming suit and sunglasses, board your boat and get ready for an unforgettable day in the shimmering waters of the Ionian Sea!
1. Boat Trip to Paxos, Antipaxos & Blue Caves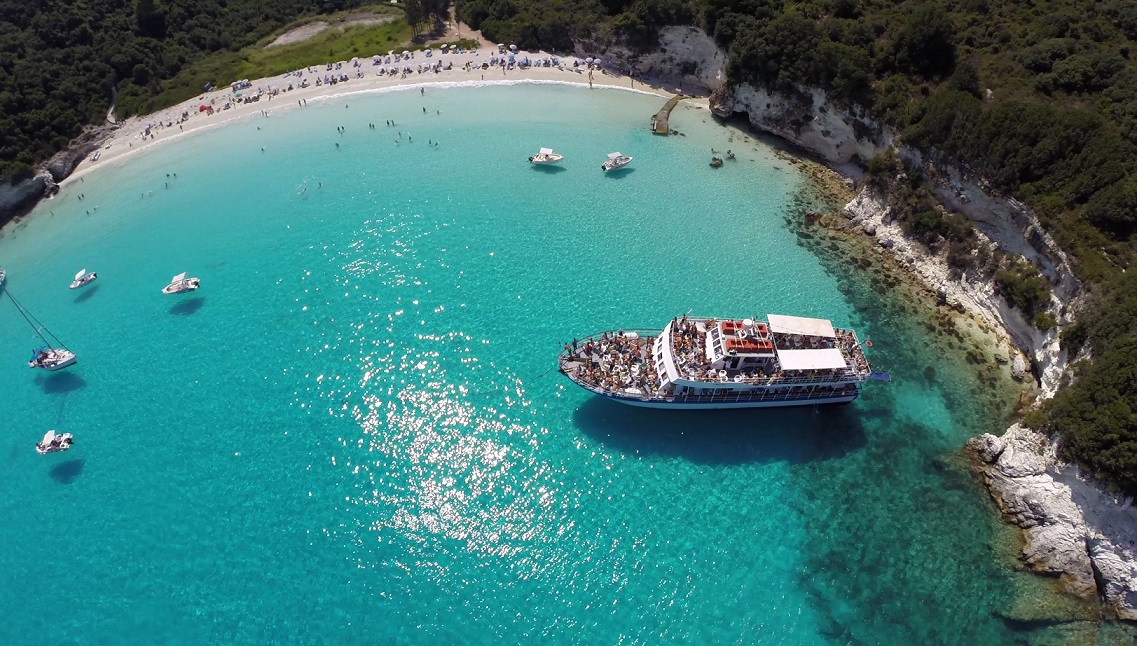 If you are looking for exotic, turquoise waters, Caribbean-style beaches and Greek picturesque villages, then this boat trip to Paxos, Antipaxos & Blue Caves is what you're after! This full-day tour is the most popular boat trip in Corfu, running almost every day of the week during the summer season (typically May-October). Setting off from Corfu Port early in the morning - or Lefkimmi port if you are staying in the south of the island - you will first have the chance to explore the famous, breathtaking Blue Caves. It's time to take your camera out as your boat will enter the impressive Ipapapanti and Ahai cave, giving you the chance to take some wonderful photos. Next, you will sail on to the tiny, unspoilt island of Antipaxos with its crystalline, turquoise waters – perfect spot for a refreshing and relaxing swim! Back then to Paxos, the smallest of the Ionian Islands, you will have the opportunity to wander around the picturesque narrow streets, soak up the authentic Greek atmosphere or enjoy a hearty lunch at one of the traditional seaside tavernas! At the end of this lovely Corfu boat trip, you will get back on your boat and follow the journey back to Corfu port. Explore Paxos, Antipaxos & Blue Caves with our Full-Day Boat Trip to Paxos, Antipaxos & Blue Caves and opt for round-trip transportation from your hotel.
2. Boat Trip to Albania with Optional Tour to Butrint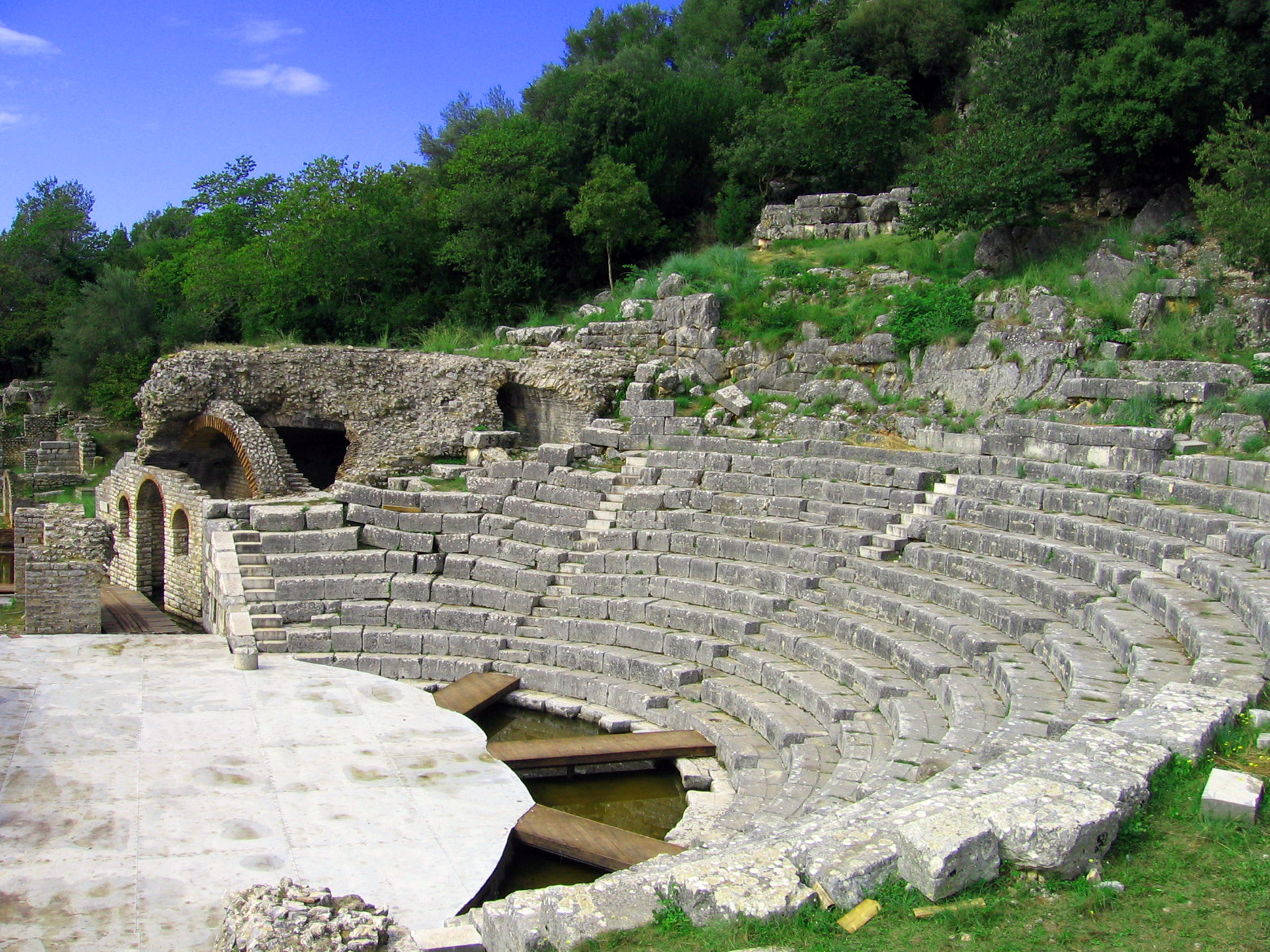 Albania is just a short boat ride from Corfu but how do you get from Corfu to Albania? This boat trip to Albania from Corfu, available on most days of the week during the summer, gives you the unique opportunity to visit this little-known but very interesting country while you are holidaying in Corfu. Depending on the type of boat that you will board, it will take between 30 minutes to 1 hour to sail across the Ionian Sea to the port of Saranda in Albania. Once you arrive at Saranda, you will then have the option of either spending the day exploring the little port of Saranda independently or you can join the popular tour to the UNESCO World Heritage Site of Butrint – which we would highly recommend! Once in Butrint, enjoy a guided tour led by a local expert guide, marvel at the well preserved remains of three periods of history - Ancient Greek, Roman and Byzantine – and admire the extraordinary archaeological finds in the small museum. After the end of the insightful tour in Butrint, you will sample delicious, local specialities at a traditional restaurant and have some free time to explore the city of Saranda before catching the boat back to Corfu!
N.B. Please note that for the tour to Albania, before you board the boat you will have to go through a passport control procedure in Corfu port so please make sure that you have with you a valid passport or visa (depending on your country if origin) on the day of the tour. You will also need to email us your valid passport details latest 1 day before your tour, so that we can forward these to Corfu port authorities in advance. You can explore Albania and Butrint with our Full-Day Boat Trip to Albania with Optional Tour to Butrint which also includes optional hotel pickup and drop off.
3. Parga, Syvota Blue & Lagoon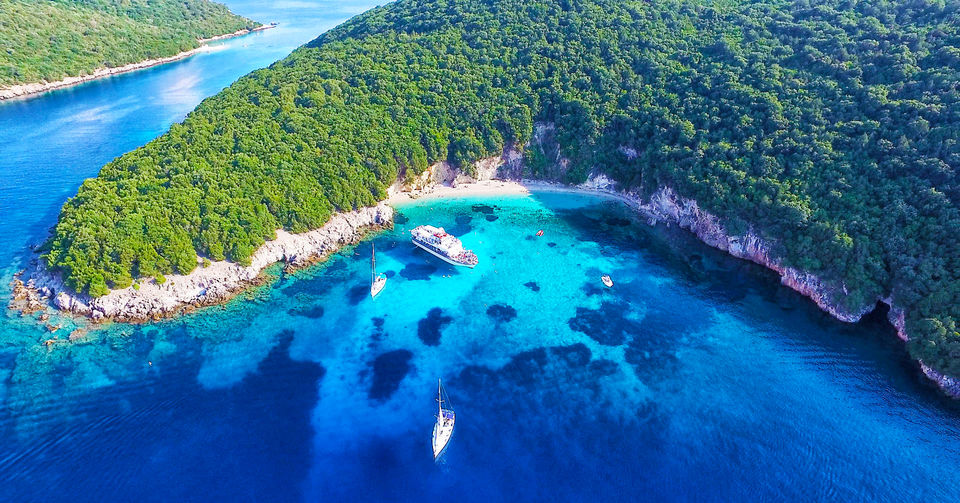 The west coast of mainland Greece is simply breathtaking, boasting gorgeous landscapes, exotic beaches and crystal clear waters! On this fascinating full-day boat trip to Parga, Syvota & Blue Lagoon, you will sail past the town of Igoumenitsa, the small fishing village of Plataria and the famous Sivota Island, where your boat will enter the breathtaking Syvota cave! It is believed that it is here that the famous Greek submarine ''Papanikolis'' was hidden during the World War II. Then, you will continue by exploring one of the most beautiful towns of Greece's mainland, Parga - a picturesque town with a strong island character and an unparalleled natural beauty! In Parga, you will certainly enjoy wandering along the pretty cobblestone streets dotted with charming colourful houses and tasting the delectable Greek cuisine at the plethora of traditional eateries. Last, you will sail for the famous Blue Lagoon where the boat anchors close to the beach allowing you to swim in its beautifully coloured waters. It is said that this is the area where the Arabian pirates used to leave their ships in the Middle Ages. Refreshed from your swim, get back on your boat and enjoy the relaxing journey back to Corfu Port! If you would like to visit these beautiful destinations of mainland Greece, check out our Parga, Syvota & Blue Lagoon boat trip Please note that this boat trip runs only once per week so it is highly recommended that you book in advance.
4. Parga & Paxos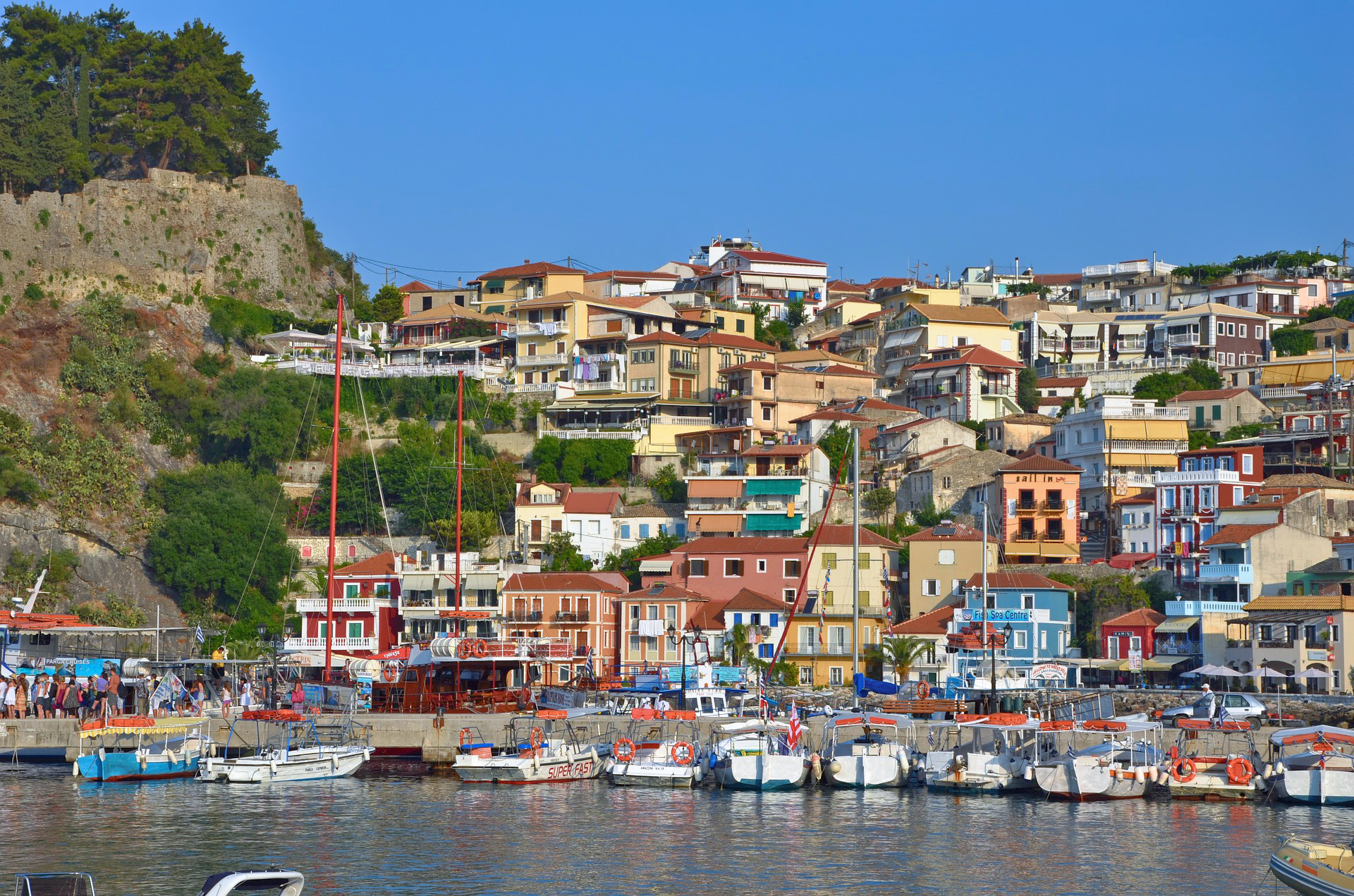 The picturesque towns of Parga and Paxos are both not too far from Corfu, and definitely worth visiting during your holidays on the island. If you can't decide which one to choose, then why not visit them both? This Parga & Paxos full-day boat trip will take you to both destinations allowing you approximately 2 hours to spend at each. Marvel at the distinctive colourful architecture in Parga, explore its scenic alleyways and discover hidden gems in the small, quaint, souvenir shops. Take time to climb up to the Venetian castle located at the top of the hill, and enjoy the spectacular views over the town. You will then sail to Paxos, the smallest of the Ionian Islands - take in the unique natural beauty, soak up the authentic Greek atmosphere here and round off the day with a delicious lunch in one of the local tavernas, serving the most delicious local dishes, made up with fresh ingredients and based on authentic recipes. A relaxing trip back to Corfu Port ends this day on the sea! If you would like to explore these picturesque destinations, check out our exciting Full-Day Parga & Paxos boat trip including optional round trip transportation.
5. Private Boat Trip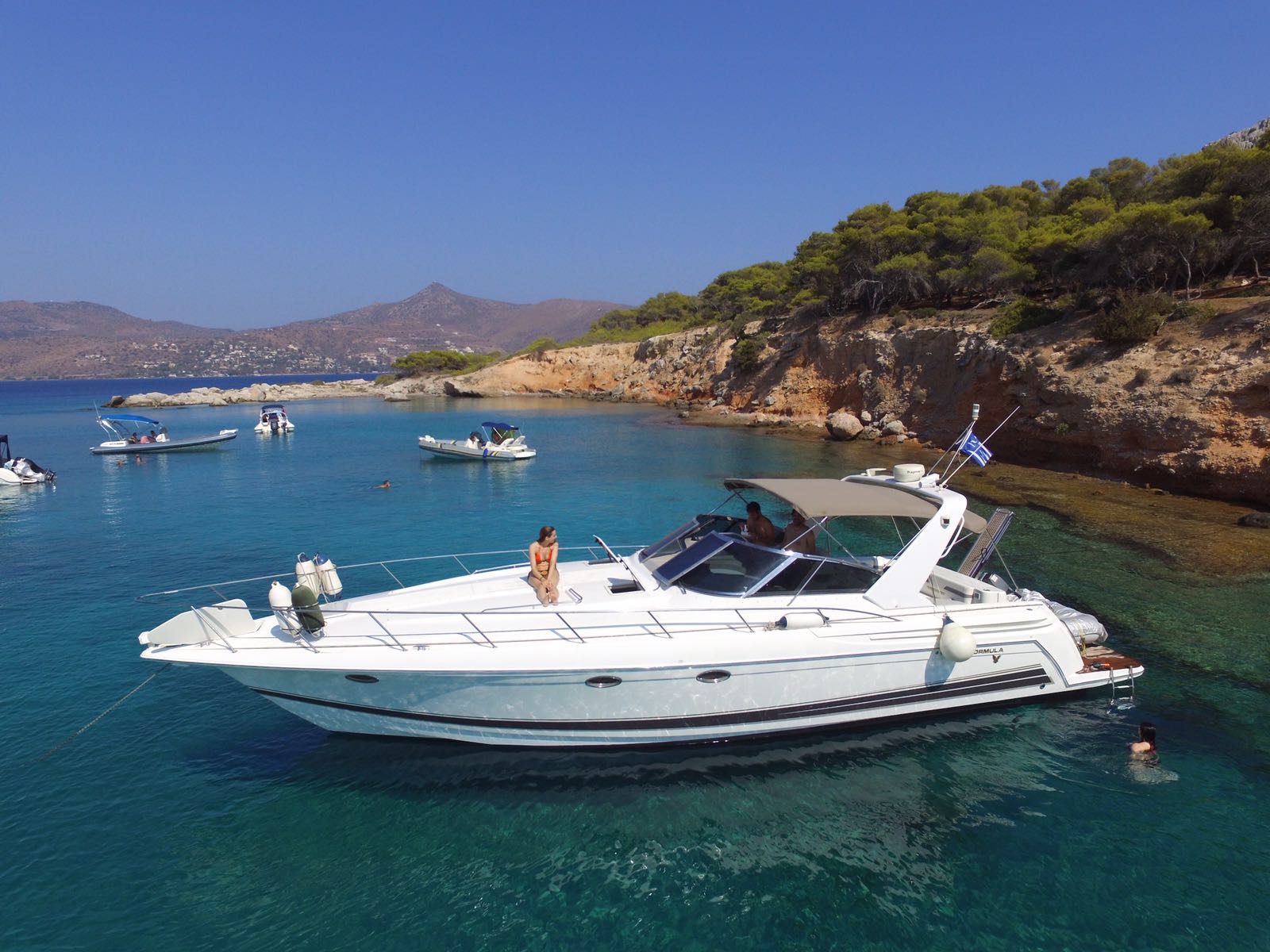 If you want to beat the crowds and are looking for a really special experience, then you should definitely consider a Corfu Private Boat Trip! One of the most popular routes on the island, is sailing to the beautiful north-east coast of Corfu. This route includes several swimming stops in secluded beaches, nestled between the picturesque villages of the east coast, and only accessible by the sea. We will also stop for a delicious lunch at the the beautiful, unspoilt Agni Bay, where you will can sample Corfu's freshest seafood with the Ionian Sea splashing on your feet, in an authentic seaside tavernas. Alternatively, you can also opt to pay a private visit to other beautiful nearby destinations like the islands of Paxos and Antipaxos or Syvota. With a private boat trip, everything will be taken care of for you- just sit back, relax and soak up Corfu's brilliant sunshine while immersing in the breathtaking scenery. If you would like to explore the beauties of the Ionian Sea at your own pace, please contact us and we would be happy to arrange a tailor-made Private Boat Trip for you, tailored to your unique preferences and needs.
Whatever Corfu Boat Trip you choose, the Ionian Sea holds a promise: Its crystalline, turquoise waters, exotic beaches, and mystic caves create a true paradise that will certainly amaze you! So what are you waiting for? Hop on your boat and start exploring these Ionian Sea treasures with one of these exciting Corfu Boat Trips! If you planning to visiting Corfu, please drop us a line and we would be happy to help you organise your perfect boat trip to your favourite destinations of the Ionian Sea, whether you are visiting alone, as a couple, with your family or friends.