Best Small Group Tours in Corfu
During holidays some visitors, indeed, prefer to be alone and private, whilst others do not miss the chance to mingle with other people from different places. In case you feel that you belong to the 2nd category, then you have come to the right place… or blog-post.

Well, it certainly remains a dilemma whether to opt for a private tour or a small group tour in Corfu. The only thing that stays unwavering is that Blue Tours aims at creating the best memories for your tour in any case. Hence, if you'd rather share experiences, get along with people from different cultures and - who knows? - make some new friends, then, the small group tours in Corfu constitute the perfect option.
And there is no need to waste more time browsing our website; we have it all gathered here for you. Either you seek to enjoy Corfu in a day, or you are keen on tasting Corfiot delicacies, here are the best small group tours for every visitor who wants to upgrade his/her experience in Greece.
Best of Corfu: Small Group Full Day Tour
This small group full-day tour promises exactly what it states; to truly explore Corfu's highlights within a day. Among those many options in Corfu, we fully understand that it may be a bit confusing to choose one or another during your holidays. And that is why we highly recommend you opting for this small group tour towards exquisite places such as Paleokastritsa, Lakones and Kassiopi; each one unique for a specific reason!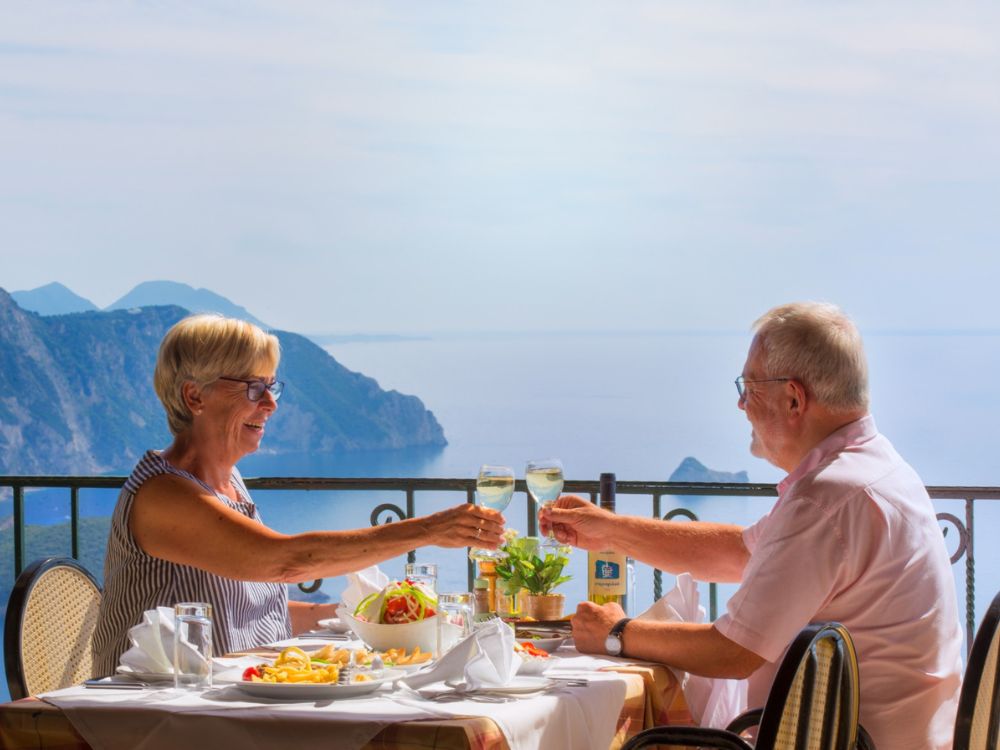 Begin your tour with a stop at Paleokastritsa beach where you will have the chance to take a boat trip though the captivating blue-eyed caves. Feel the summer breeze when being upon the boats, thus enjoying reposing moments in this comfortable tour. Make your way up to the 13th century monastery to admire stunning views towards the Ionian Sea. Of course, this tour would not be the same if there wasn't a stop at the traditional village of Lakones. Take a moment to breathe and marvel at one of the best views in your life; this panoramic scenery will definitely leave you speechless!
End your tour by visiting Kassiopi; the traditional, fish village on the northside of Corfu and the closest point to Albania. Some of the top places in Corfu such as Kassiopi Castle and Holy Church of Panayia Kassopitra, a monument built 1,500 years ago, are located in this village… and they will definitely take you aback! Book your Best of Corfu: Small Group Full Day Tour today and indulge yourself into one-of-a-kind experiences.
Small Group Tour: Corfu Food & History Walking Tour
Do you consider yourself gourmand? Or simply a food lover? Either way, the Corfu Food & History Walking Tour meets all your culinary demands. Let yourself into the hands of the experts; from your professional local guide, who will provide you with all the necessary tips, to the adepts at gastronomy. From one place to another, also, you will not miss the chance of delving into Corfu's history. Prepare your notes… and your stomachs.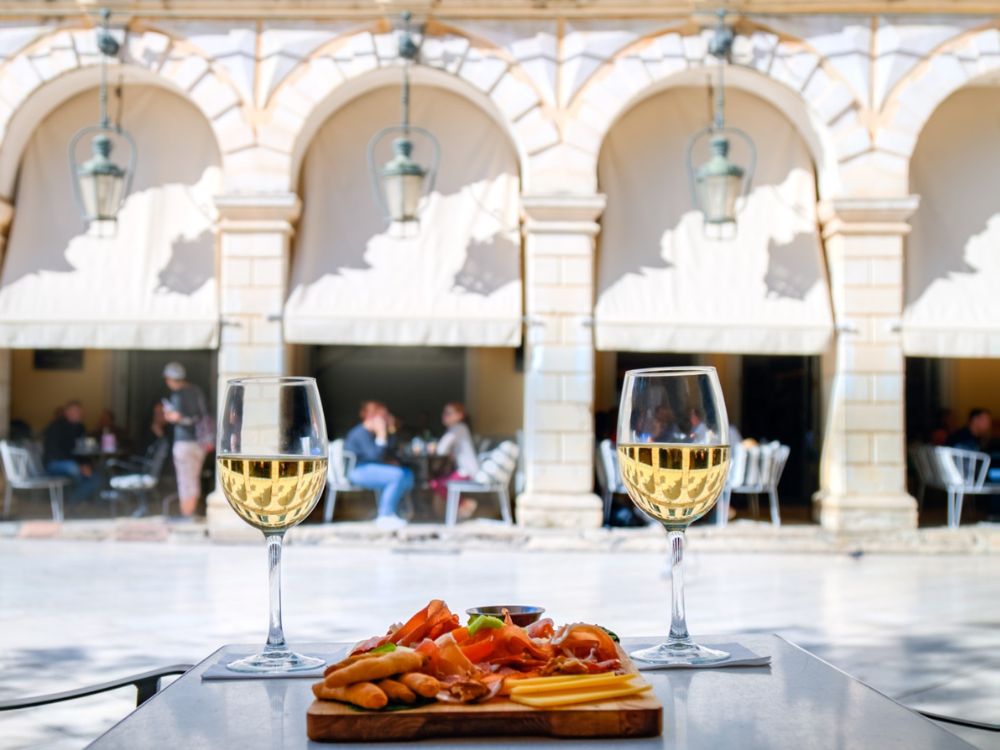 One part culture, one part gastronomic adventure; this is why your first stop will be at a local bakery in the heart of Old Town. Enjoy freshly-baked Greek pies with a plethora of stuffing; typical cheese or spinach pie, chicken-mozzarella, even pie made with nettles, whilst quenching your thirst with a rejuvenating ginger beer. Continue your way to local delis where you taste delicacies such as glazed kumquat, fig pie and traditional liqueurs, and visit the hidden gem of dairy products, where you will enjoy the best cheese platter!

Now up to lunch! You need to save space in your stomach… because you will be thrilled! Local flavors, homemade recipes and a glass of Greek ouzo will be waiting for you in this small group food tour and history tour. Enjoy your luscious meals accompanied by the well-known Greek beverages. Last stop? Always the best one! A local gelateria with more than 30 ice-cream flavors will maximize your food tour experience.
Small Group Full Day Tour: From Corfu to Meteora
Do not miss the chance to participate in this Small Group Tour from Corfu to Meteora, also listed as a World Heritage Site. In this full-day tour, wonder at this historical site which depicts the religious life as well as the Greek Οrthodox history, explore the centuries-old monasteries which rise above 2,000 meters, perched dramatically on the cliff, and if you stand lucky take delight in breathtaking sunset views towards the traditional town of Kalampaka.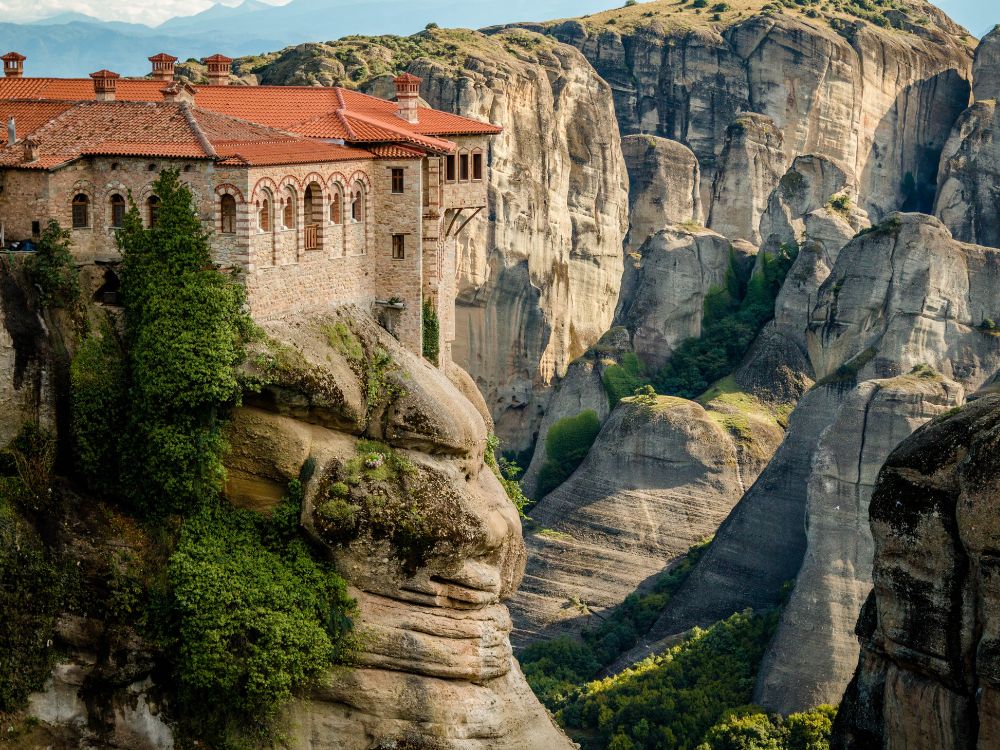 Who said that it is not possible to travel from Corfu to Meteora within a day? This small group tour from Corfu to Meteora gives you the chance to discover the mainland of Greece. Meteora, a well-known place, not only for its distinguish beauty, but also for its religious history with the monasteries rising upon the cliff, are also listed as UNESCO World Heritage Site. Not only will you have the chance to get inside and delve into the ecclesiastic life of the monks, but you will also treat yourself with stunning views towards the valley of Kalampaka.
Descend the hill and stroll around the quaint town of Kalampaka, which is ornately embraced by the imposing hills of Meteora. Enjoy typical dishes of Thessaly and wander around the streets of Kalampaka while always marveling at this unique geological phenomenon. Make your way back to Corfu within the same day and get ready to narrate everything about this amazing place when being back to your homeland.
Small Group Tour: Evening Walking Tour with wine
This evening walking tour is the optimal choice for all the romantic souls who seek to enjoy a vibrant night wandering around the atmospheric quarters of Corfu Old Town. Indulge into the starry-eyed ambiance while enjoying a glass of wine with the locals in one of all-time favorite bars.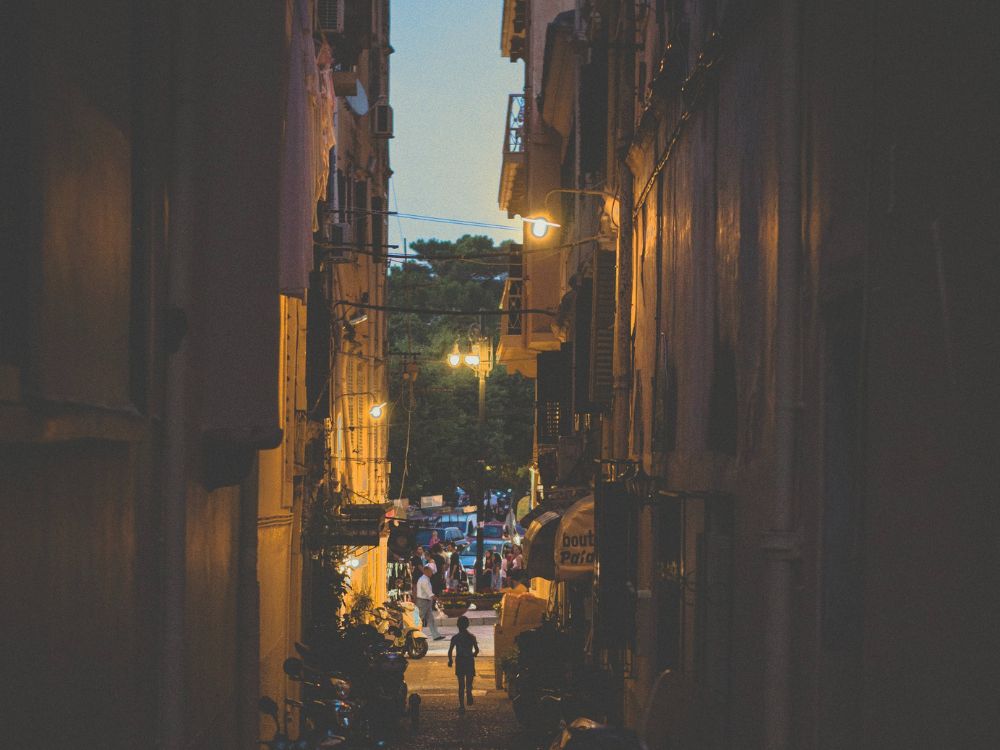 This walking tour in Corfu is admittedly incomparable to others; exploring the narrow alleys and the illuminated sites under the Corfiot moon is definitely an one-of-a-kind experience. Meet your professional tour guide at a central point in Corfu Old Town and get ready for new acquaintances. Nocturnal Corfu is the absolute place to be in love with.
Begin your tour followed by your professional guide by strolling around the picturesque neighborhoods of Old Town, whileyou take breathtaking views towards the enchanting Old Fortress, the dazzling Liston Promenade which resembles Rue de Rivoli in Paris, as well as the imposing San Giacomo Theatre in one of the most atmospheric squares in Greece. End your evening small group tour with a glass of refreshing wine in a lively bar in the heart of Corfu.
Small Group Tour: Corfu Cooking Class
This isn't about a simple cooking class; it is a gastronomic journey. Given the fact that food brings people together, this small group cooking class promises not only to give some advanced tips on how to cook as a Corfiot, but also to provide you with an unforgettable experience. Get ready to meet new people, cook with them and enjoy local plates in a traditional, grandma-like house in the Corfiot countryside.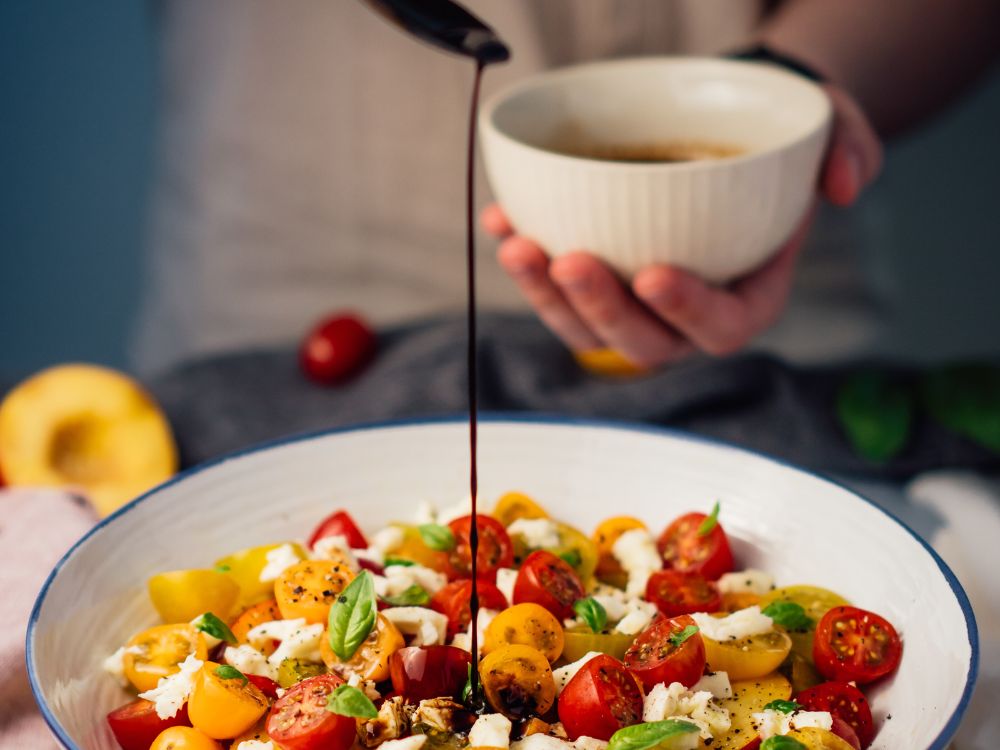 The absolute Corfiot culinary experience is about to begin. Meet your cooking instructor at a central spot of Corfu Town and get ready to discover the vibrant open market of Corfu Town and try out fresh fruit, vegetables and local delicacies. Once you have packed all the necessary ingredients, hop-on your comfy vehicle and be prepared to unfold your cooking talents.
A welcoming house in the countryside of Corfu is the location where the cooking class will take place. There, you will also have the chance to learn the almost-ancient technique of cooking in a wood-fired oven. Once you have completed the preparation, savor lavish dishes accompanied by a glass of wine or beer. Not only will you enjoy the Greek hospitality to the fullest, but you will have also gained the appropriate skills to recreate your favorite Greek dishes when going back home.
Why choose Blue Tours?
Still wondering why someone books a small group tour with us? Blue Tours provides you with all the necessary details before proceeding with your booking.
Although it is a small group tour, this does not mean that you will not enjoy your privacy. Our small groups consist of a maximum of 15 people per tour, meaning that our visitors will have their own conveniences.

Our minibuses and minivans are in the greatest condition, reassuring you that you will be safe and sound during your tour.

Our drivers are licensed, experienced and English speakers, and they will certainly help you with everything you may need.

Every tour is accompanied by a professional, licensed tour guide who will not only provide you with all the historical/cultural information, but also he/she will offer its assistance to your needs.

Everything has priory planned. There will not be any surprises before our meeting - we will have been already in contact so as to ensure that everything is organized beforehand.

We are the ones making the reservations and prepaying the individuals' costs in order to facilitate your tour and offer you the best services.

There are no extra costs - what you see is what you pay!

"Wear" your largest smile and get ready to explore Greece and Corfu with a relaxing, interesting and affordable small group tour.
Still second thoughts?
Hence, even though some visitors prefer private tours in Corfu, there is no doubt that small group tours in Corfu have their benefits, too. And if you are still wondering whether you made the right decision, do not worry - we are here for you. Just send us an email and we will reach you immediately, making sure to unburden you from second thoughts.