Corfu is a large island with hundreds of interesting things to do and beautiful places to visit. While the enchanting Corfu Town is inarguably one of the island's highlights, Corfu has much more to offer. The island's beautiful countryside is dotted with a plethora of quaint, postcard-perfect villages, most of which still retain their traditional character and where life runs at a different, relaxed pace. But what are the most beautiful villages of Corfu that are worth visiting during your holidays in Corfu? Let's explore together 10 of Corfu's top villages where the real life of the island can be experienced.
1. Pelekas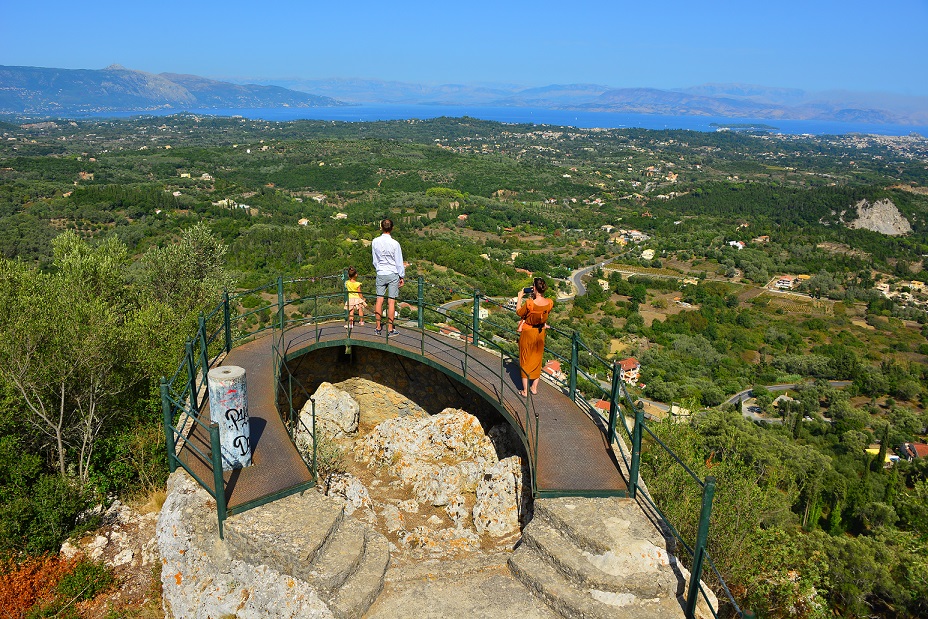 Photo of Pelekas Village │©Blue Tours
Located 13 km from Corfu Town/Corfu Town, Pelekas is widely considered one of the most beautiful villages of Corfu, renowned for its colourful architecture, spectacular views and magical sunsets. In the village, you can find quaint souvenir shops, cafés and a handful of traditional eateries featuring the most delicious Corfiot dishes. One of the highlights of the village is Kaiser' s Throne, located on the top of the hill, from where the German emperor Kaiser Wilhelm II, used to enjoy panoramic views of the island. Capture the same breathtaking views yourself, while sipping your favourite cocktail at the café/restaurant that you can find on this hilly location. A visit to the village of Pelekas can be combined with exploring the nearby sandy beaches of Kontogialos, Glyfada and Myrtiotissa. Add a stop in Pelekas to one of our popular Glyfada Corfu beach tours like our Private Shore Excursion: Corfu Beaches: Paleokastritsa and Glyfada or visit Pelekas through a tailor-made Corfu village tour. View Pelekas location in Google Maps.
2. Kassiopi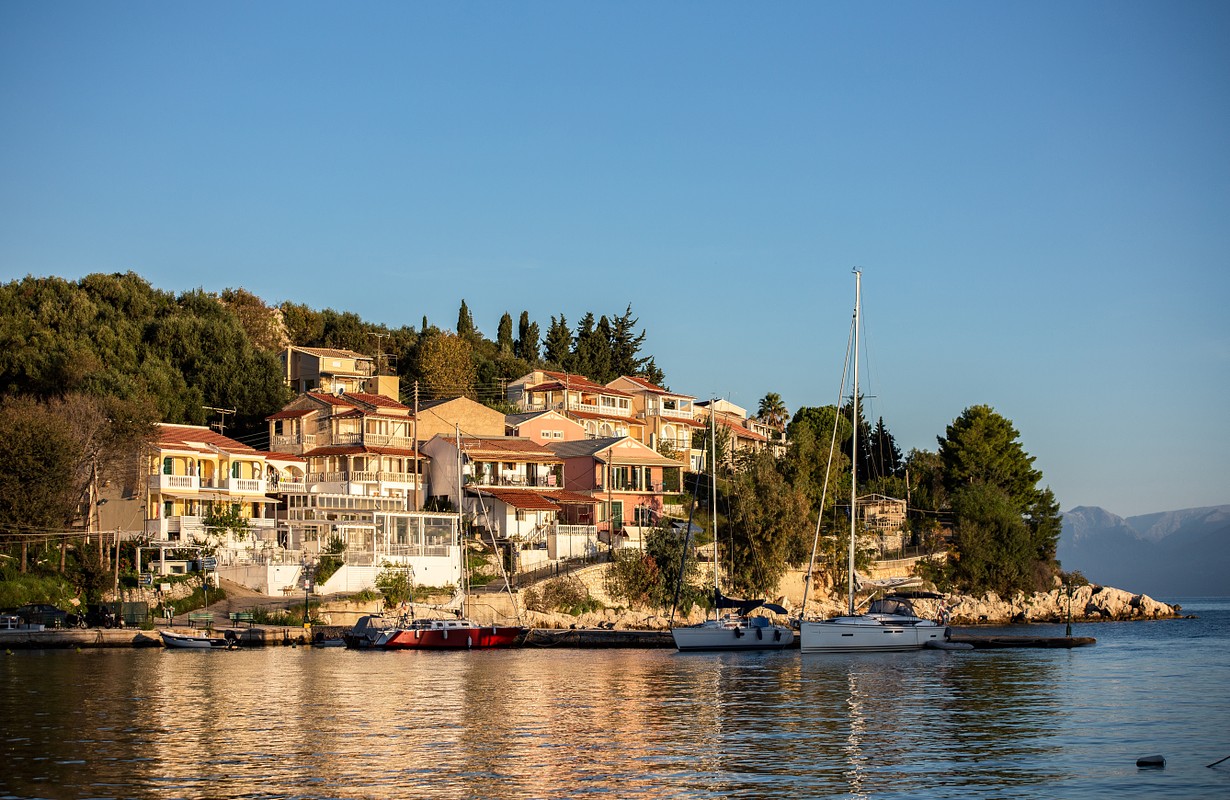 Photo of Kassiopi Village │© Arrival Guides
Kassiopi is one of Corfu's most picturesque villages located approximately 35 km northeast from Corfu Town, just opposite the Albanian coastline. It is a small, quiet fishing village, that has evolved into a popular tourist resort over the last decades, but has managed to retain its authentic, traditional character. Quaint cafés and delicious tavernas, serving the most popular local specialties, dot the picturesque little port while there is also a nice selection of souvenir shops to explore. The most significant attractions of the village are the impressive 16th-century Kassopitra church, considered one of Corfu's most significant churches, and the remains of the Byzantine castle of Kassiopi, which together with Angelokastro and Gardiki Castle, once used to protect the island from intruders. Kassiopi can be easily explored with our Private Corfu Grand Island Tour or with any Private Corfu Custom Tour which can be designed tailored to your own needs and preferences. Check out Google Maps Kassiopi Location.
3. Old (Palaia) Peritheia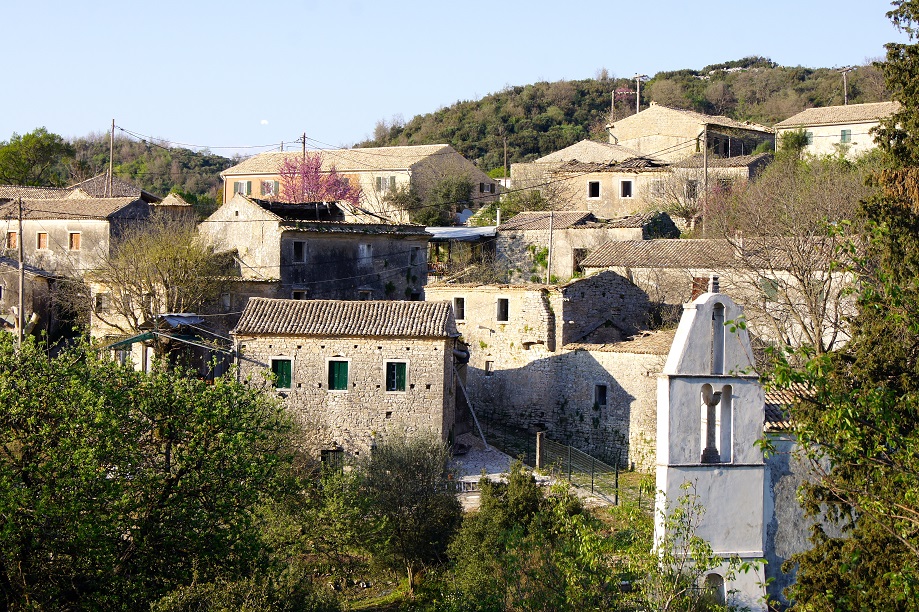 Photo of Old Peritheia Village│© Old Peritheia Wordpress
Nestled on the slopes of Mountain Pantokrator, almost 400 m above sea level, Old Peritheia (or Palaia Peritheia) is an abandoned village set approximately 40 km north from Corfu Town/Corfu port. Corfu's fascinating ''ghost village'', as locals call it, was built in the 14th century, but was permanently abandoned in the 1960s, when the inhabitants decided to relocate somewhere closer to the sea. Travel back in time and imagine life in the village's glorious days, as you roam freely through the empty streets and witness the 130 abandoned houses, most of which have been constructed to a Venetian architecture. The only sign of life in the village is a few family tavernas in the square, where you can sample Corfu's most traditional meals prepared with locally grown ingredients based on authentic recipes. When you visit Old Peritheia, you can also explore the nearby village of Kassiopi (8 km from Old Peritheia) or go hiking to the top of Mount Pantokrator. Discover Old Peritheia along with other beautiful Corfu attractions with our Corfu Private Tours and Corfu Shore Excursions. Check out Google Maps to see Old Peritheia exact location.
4. Benitses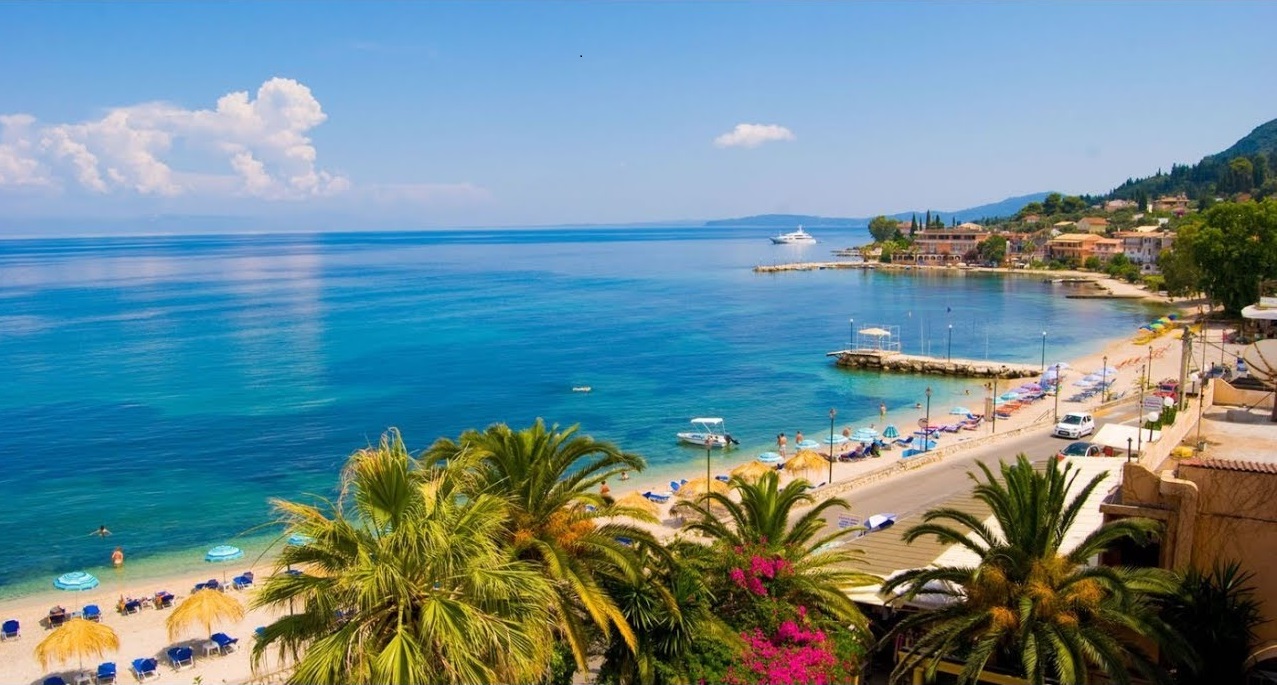 Photo of Benitses Village│© Dronakias/Youtube
Placed 14 km to the south direction of Corfu Town, Benitses is a small, seaside village that developed into a popular tourist resort during the 1960s and 1970s with a multitude of hotels, apartments, shops, cafés and restaurants spread around the area. The authentic Greek village vibe can still be experienced in the old part of the village - take a leisurely walk through its picturesque streets, discover the beautiful stone houses and observe real local life. Don't skip the chance to stop by the seaside tavernas, renowned for serving Corfu's freshest fish and seafood, as fishing is a very popular activity amongst the approximately 800 inhabitants! The beach of Benitses, located just in front of the resort, is organized with sunbeds, umbrellas and few watersports. However, the dark colour of the sea water, due to the presence of a marine plant named Posidonia which covers the sea-bed (very similar to seaweed) , make this beach less attractive to many travellers. If you would like to visit Benitses, ask us to add a lunch stop there to your Private Best of Corfu Corfu Island Tour or any other Corfu Private Tour and have the chance to also explore other Corfu's must-see attractions like Achillion Palace, Corfu Town or Kanoni (Mouse Island). View Benitses Location in Google Maps.
5. Sinarades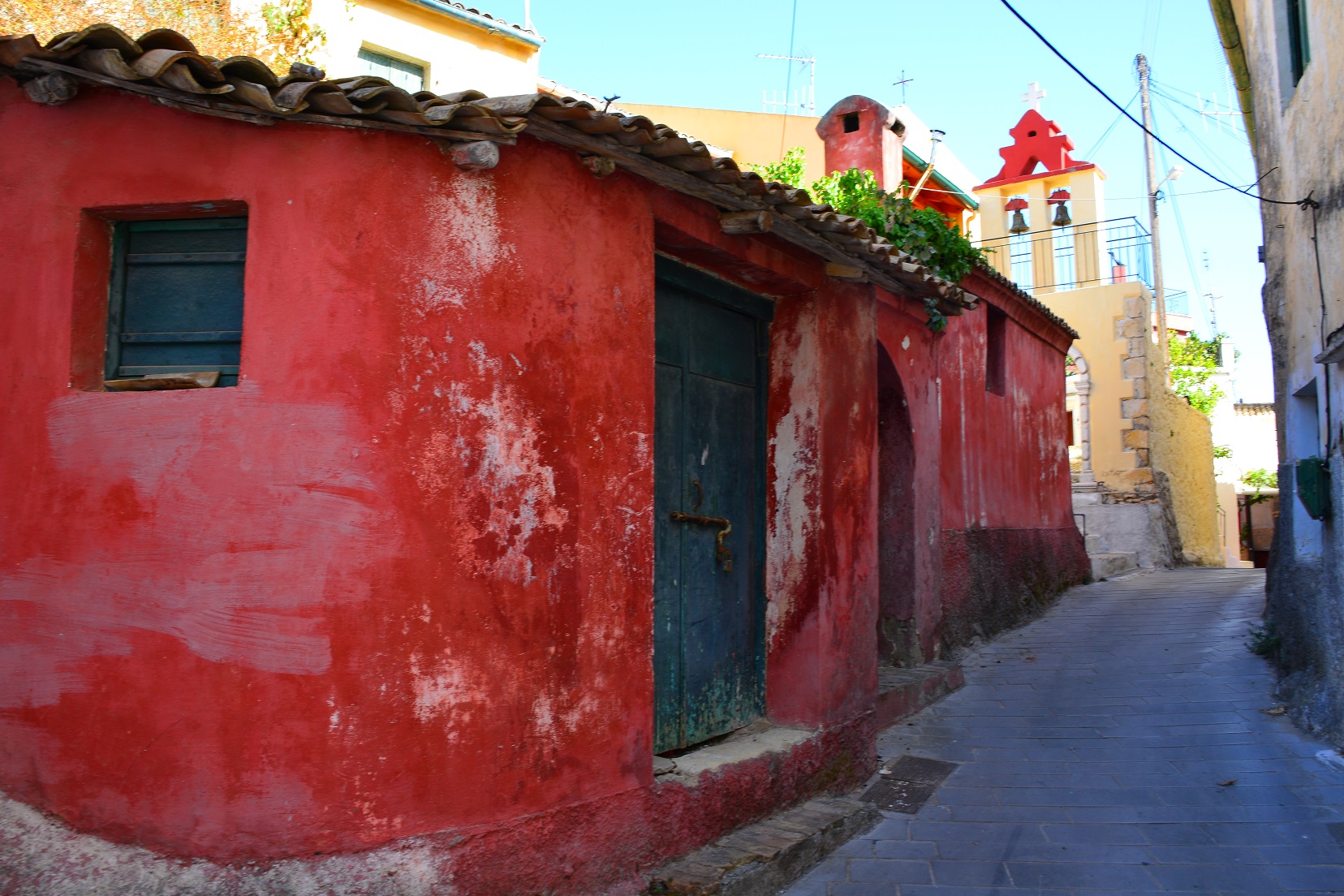 Photo of Sinarades village ┃© Blue Tours
If you are looking to get a pristine glimpse into authentic Corfiot village life, then the southwest village of Sinarades is the place to visit! Dominated by traditional architecture, the village features beautiful stone houses, scenic, narrow streets, quaint churches and a folklore museum. The small museum, housed in a 2-storey restored Corfiot home, holds an interesting collection of traditional Corfiot costumes, furniture, agricultural equipment, and ceramic objects, all depicting life as it was lived during the years 1860 - 1960. Close to the village of Sinarades, you can find the hidden gem of Aerostato, one of Corfu's most famous viewpoints, boasting unique, uninterrupted views out to the Ionian Sea. If you would like to take a dip into the crystalline waters of the Ionian Sea, the organized, long sandy beach of Agios Gordios, is also located below the village of Sinarades - just a short drive away. Explore the village of Sinarades together with other Corfu beautiful villages in our Corfu Villages and Achillion tour or contact us to plan a tailor made tour to Sinarades and your favorite Corfu villages. View Sinarades Location in Google Maps.
6. Gastouri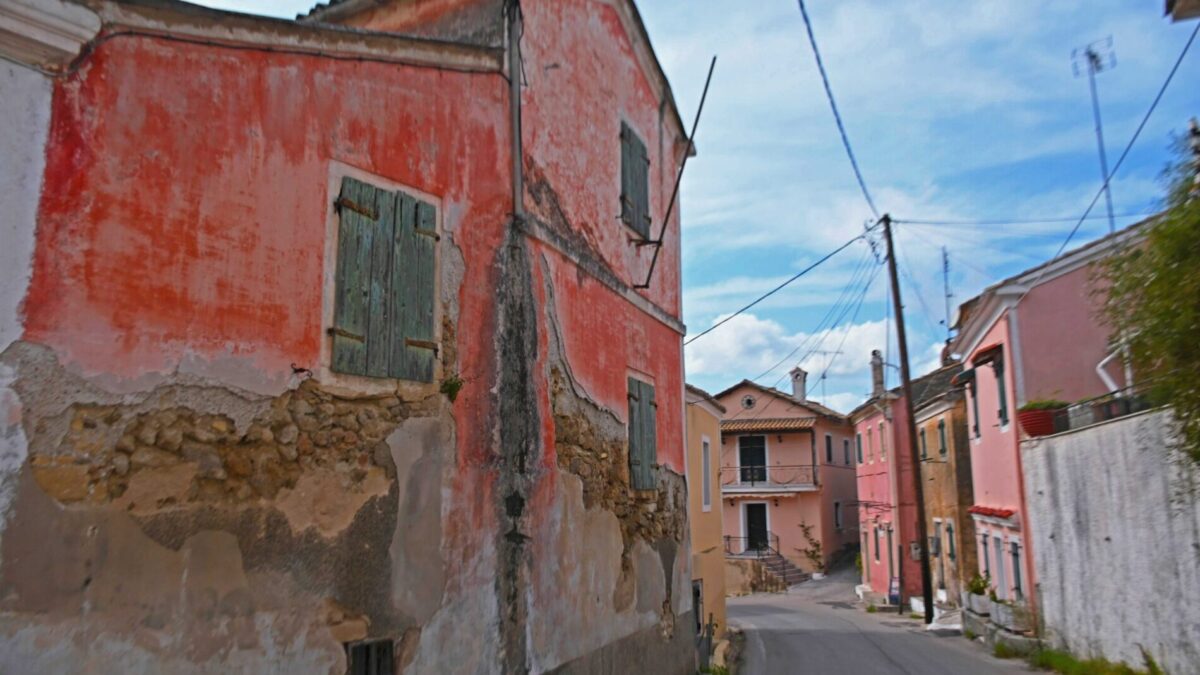 The village of Gastouri │© MyKerkyra
Located approximately 12 km southeast from Corfu Town, Gastouri is a picturesque village built on the slopes of Agioi Deka Mountain. Strolling through its the narrow, scenic streets, you can discover many beautiful mansions of the 18th and 19th century, as well as a lovely range of shops, cafés and restaurants. Gastouri has gained a lot of popularity thanks to the famous Achillion Palace, built as a summer residence for the Empress Elizabeth of Austria in 1891, and nowadays Corfu's most visited museum, welcoming thousands of visitors from all over the world every year. Achillion Palace is also one of James Bond's favorite locations, as the casino scene of the film ''For Your Eyes Only'' (1981), where Bond means with Kristatos was shot there. You can visit Achillion Palace in Gastouri village along with other Corfu-must see attractions with our Corfu Private Tours like our Private Tour to Achillion, Kanoni and Corfu Town or our Corfu Shore Excursions like our Private Tour: Best of Corfu Full Day Island Tour or our or Private Tour to Governor's Olive Mill, Achillion and Corfu Town. See where Gastouri is located in Google Maps.
7. Lakones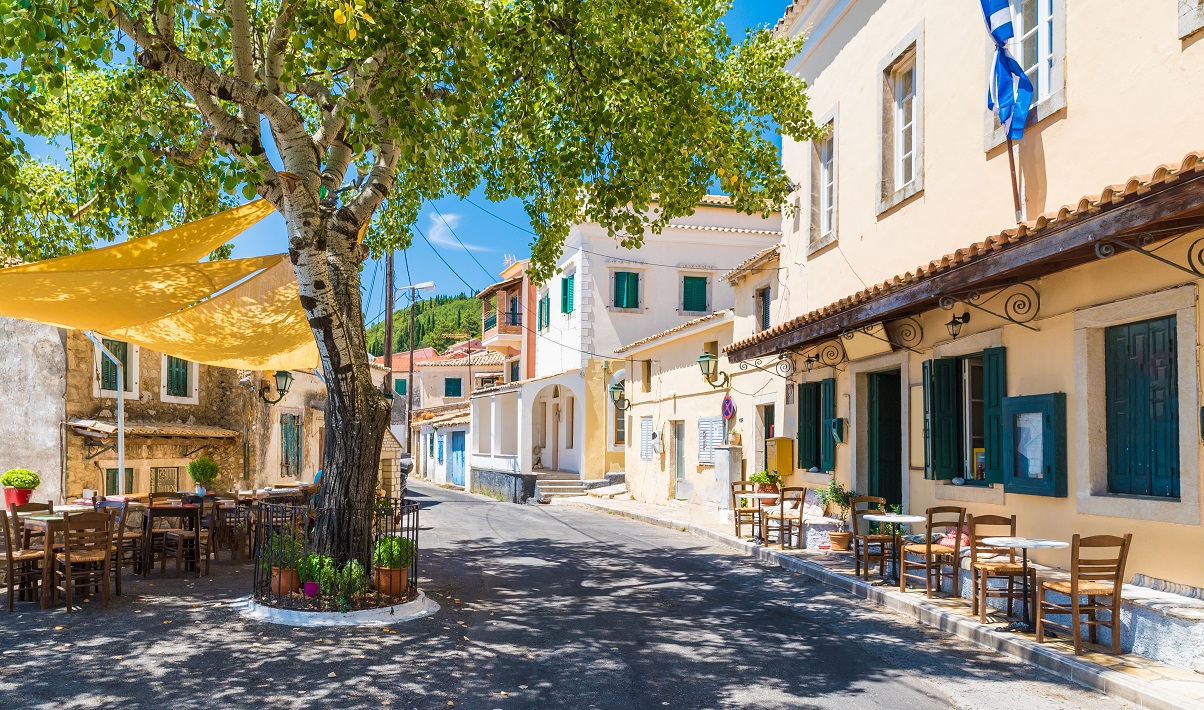 Photo of Lakones village square│© Blue Tours
Lakones is another typical Corfiot village, set on a lush green hill above the famous coastline of Paleokastritsa, approximately 24km northwest from Corfu Town/Corfu port. The name of the village is said to be derived from its first inhabitants, who came from the area of Lakonia, the prefecture in the southeast of Peloponnese, in mainland Greece. Sit down in one of the cozy kafeneia (Greek traditional cafés) in the small square of the village, and sip a Greek coffee or a glass of ouzo while watching the local life go by - you may even see Greek women in their Corfiot traditional dresses roaming the streets. The village is also famous for its ''Bella Vista'', one of the most popular vantage points in Corfu, from where you can enjoy unrivalled views of the island and the Ionian Sea. Lakones is an ideal hiking starting point as there are many beautiful paths that lead to nearby villages. A visit to Lakones can be combined with other popular attractions of the west coast such as the must-see attractions of Paleokastritsa or the impressive castle of Angelokastro. You can explore Lakones in our Private Panoramic Corfu Tour, our Private Corfu Grand Island Tour or our Private Corfu Custom Tour: Corfu in a day. View Lakones exact location in Google Maps.
8. Liapades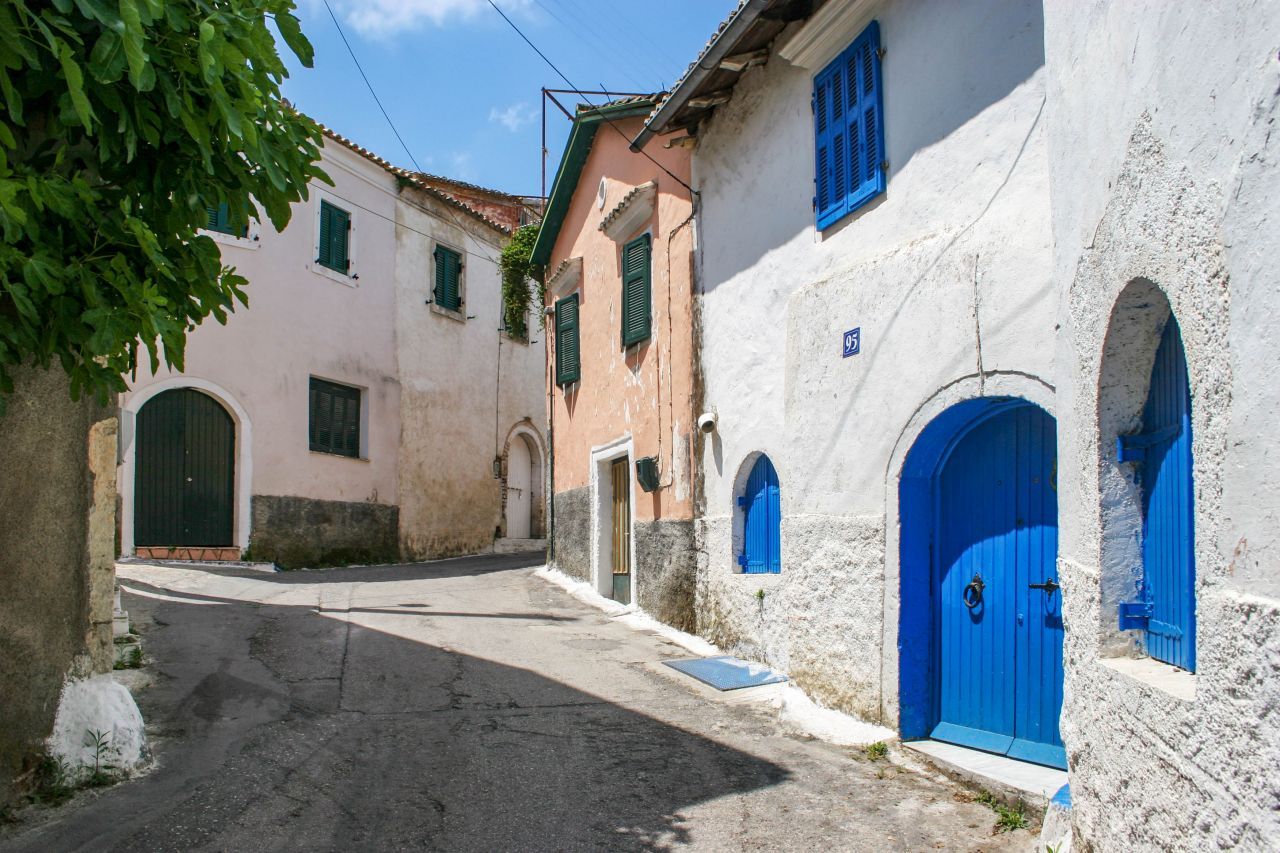 Photo of Liapades Village│ © Greeka
Built on a small green hill, the village of Liapades is set approximately 21 km west from Corfu Town, near the famous coastline of Paleokastritsa. The village is split in two, different parts which feature a quite different atmosphere. In the old part of the village, where locals reside, you can experience the typical, old Greek village vibe: stroll through the narrow streets, discover traditional, Venetian-style homes, and take time to admire the attractive 16th-century church of Agia Anastasia that you will encounter along the way. On the other hand, the new touristically developed part of the village is located next to the beach, and provides a range of hotels, apartments, restaurants and shops which will cater the needs of every traveler. The sand and pebble Liapades beach is well-organised offering plenty of facilities including sunbeds, umbrellas and watersports. From the beach, you may also rent a boat to discover other beautiful, secluded beaches of the west coast, like Limni, Kastelli, Iliodoros, Rovinia or the famous Paradise/Chomoi Beach. If you are visiting Corfu, contact us to arrange a customized Private Tour or Shore Excursion around Corfu's most beautiful villages according to your needs. Click to explore Liapades location in Google Maps.
9. Chlomos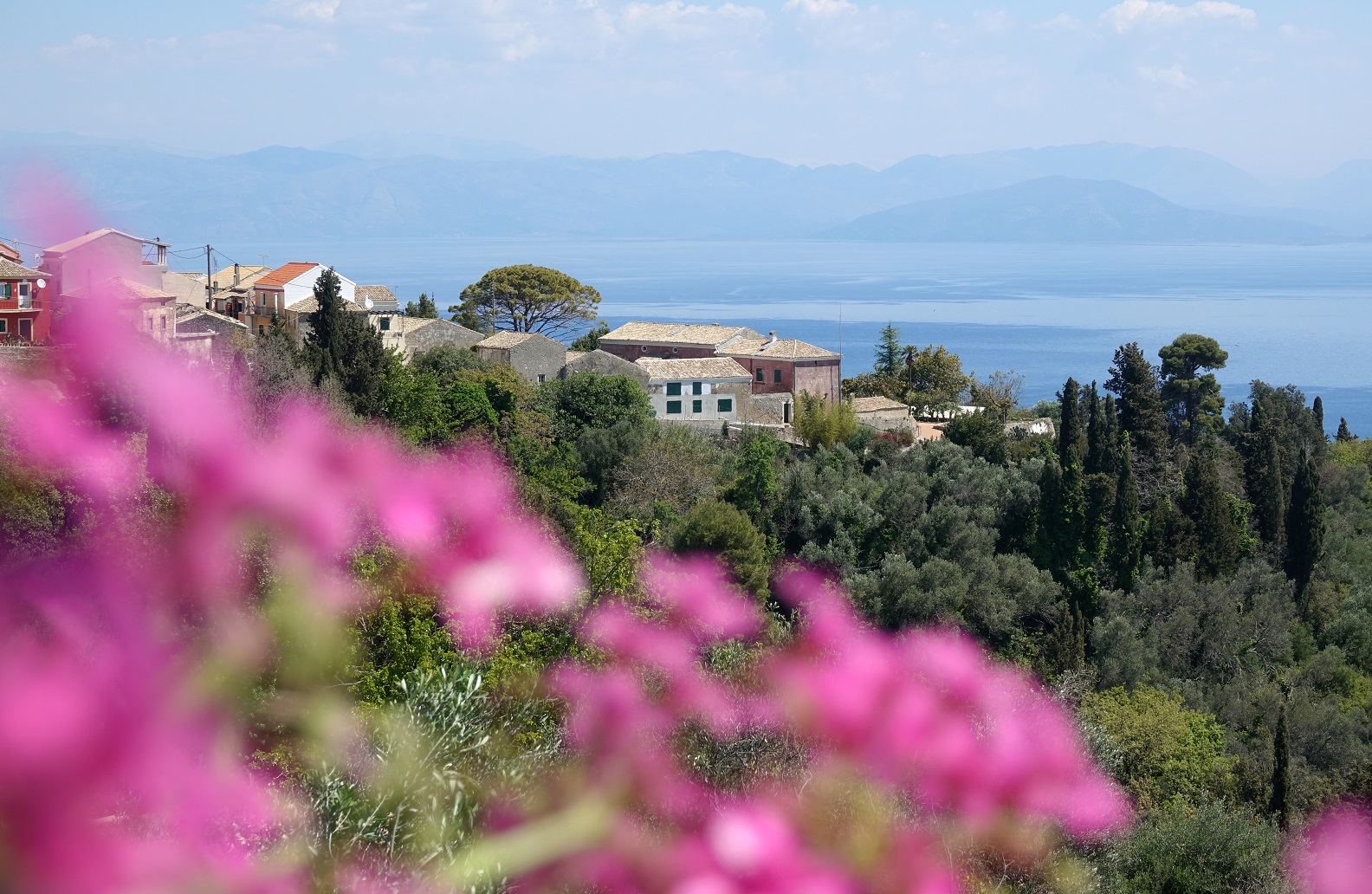 Photo of Chlomos Village ┃© Blue Tours
If you are looking for a quiet, peaceful village, away from the hustle and bustle, then the small, historic village of Chlomos is just the perfect place for you! Set in the south of Corfu, approximately 27 km from Corfu Town/Corfu port, this traditional settlement is one of the oldest villages of Corfu, standing at an altitude of approximately 270 meters and boasting some of the best views of the south of the island. You will certainly enjoy strolling through the village, while admiring the distinctive orange-red houses with flower-covered walls, and discovering handmade products in the small, quaint souvenir shops. Make some time to visit the local tavernas where you can taste flavorful fare made from the freshest ingredients, paired with a glass of ouzo or local wine while soaking up the spectacular views. You can discover the village of Chlomos along with other interesting Corfu attractions with our Private Tour to Corfu Villages, Achillion Palace and beach escape or you can add a stop in Chlomos to your Corfu custom day tour based on your unique needs and preferences. Check out Chlomos location in Google Maps.
10. Sokraki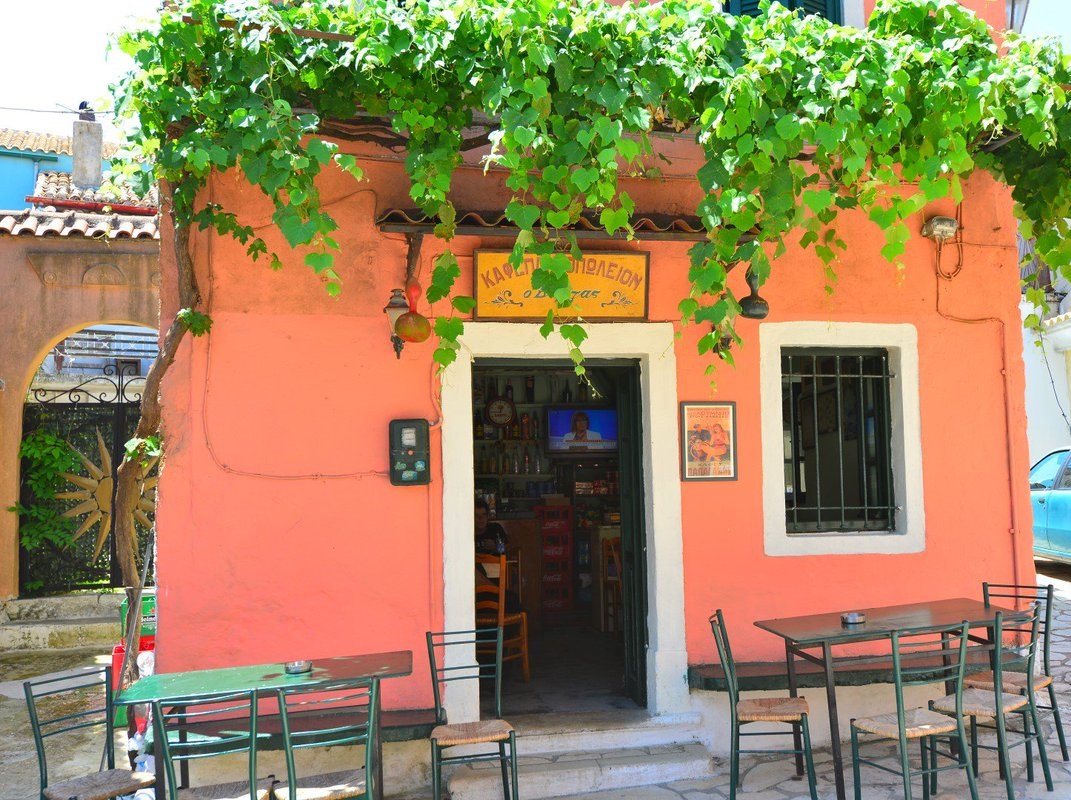 Photo of Sokraki Village Square┃© CrystalTravelCorfu/Twitter
Sokraki is an unspoilt, semi-mountainous village located around 27km north of Corfu Town and standing at approximately 480m above sea level. Having escaped tourist development, this hidden gem retains a traditional character with stone wood houses, cobbled streets and a beautiful square dominating the village. In the traditional square, you can feel a real sense of authenticity and charm as you discover the old-fashioned kafeneio (local Greek café) ''Varzas'' of Sofia, serving freshly-brewed greek coffee and delicious Greek meze dishes like Tzatziki or Greek salad. The village is also home to picturesque churches dating back to the 16th century, such as Agia Varvara, Agios Nikolaos, Agios Vlassis and Panagia Perivoliotissa. Sokraki is a real treat for those looking for a unique, out of the ordinary experience during their holidays in Cofu. Find Sokraki's exact location in Google Maps and explore it with one of our Corfu Private Tours and Shore Excursions.

Corfu's beautiful villages await for you to explore them, holding a promise: In every Corfu village that you visit, you will be amazed by the great hospitality of the locals, the unique beauty of the landscape and the wonderful Greek village vibe. If you are visiting Corfu, don't miss the chance to experience the authentic side of the island in Corfu's most beautiful villages, away from the crowds. Get in touch, and our team of local travel specialists will be delighted to design a perfect, tour in Corfu tailored to your own needs and preferences.