Saint Spyridon's Day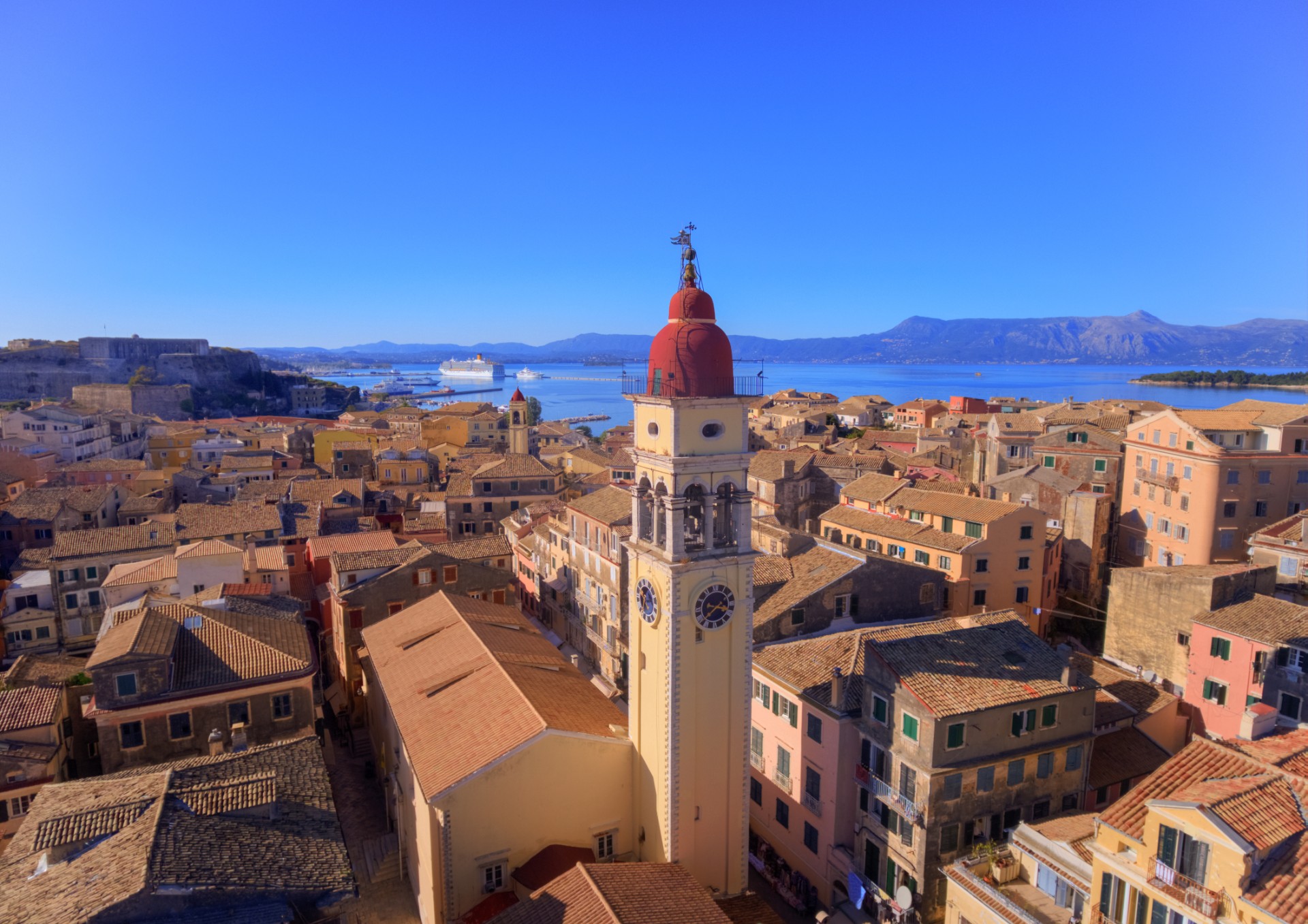 The 12th of December marks "Saint Spiridon Feast day'' a major celebration in Corfu in honour of Saint Spyridon, the Patron Saint of the island whose sacred relics are kept in the beautifully decorated Saint Spyridon Church, located in the heart of Corfu Town. Saint Spyridon was a shepherd, born in the small village of Askia Cyprus in 270 AD and was married and father to a daughter, Irene. Saint Spyridon was well known for his strong dedication to God, his great piety and love for mankind. After the early death of his wife, Saint Spyridon decided to dedicate his life to God, entered a monastery and was later elected to become the bishop of Trimythous, Cyprus. Saint Spyridon died peacefully on the 12th of December in 348 AD. Although he was initially nuttied in Cyprus, his relics were later moved to Constantinopole and after the fall of Constaninopole in 1453, the relics ended up in Corfu.
The locals have deep faith in Saint Spyridon, referring to Him as "Keeper of the City" as he is believed to have saved the island with his miracles on four different occasions: he saved Corfiots from the famine in 1533, he saved the island from the plague twice in 1629 & 1673 and he protected Corfu from the Ottoman attack in 1716. Every Corfiot family has at least 1 member named after the Saint with "Spiros" & "Spiridoula" being the most common names on the island!
Saint Spyridon's Day Celebrations & Loukoumades T' Agiou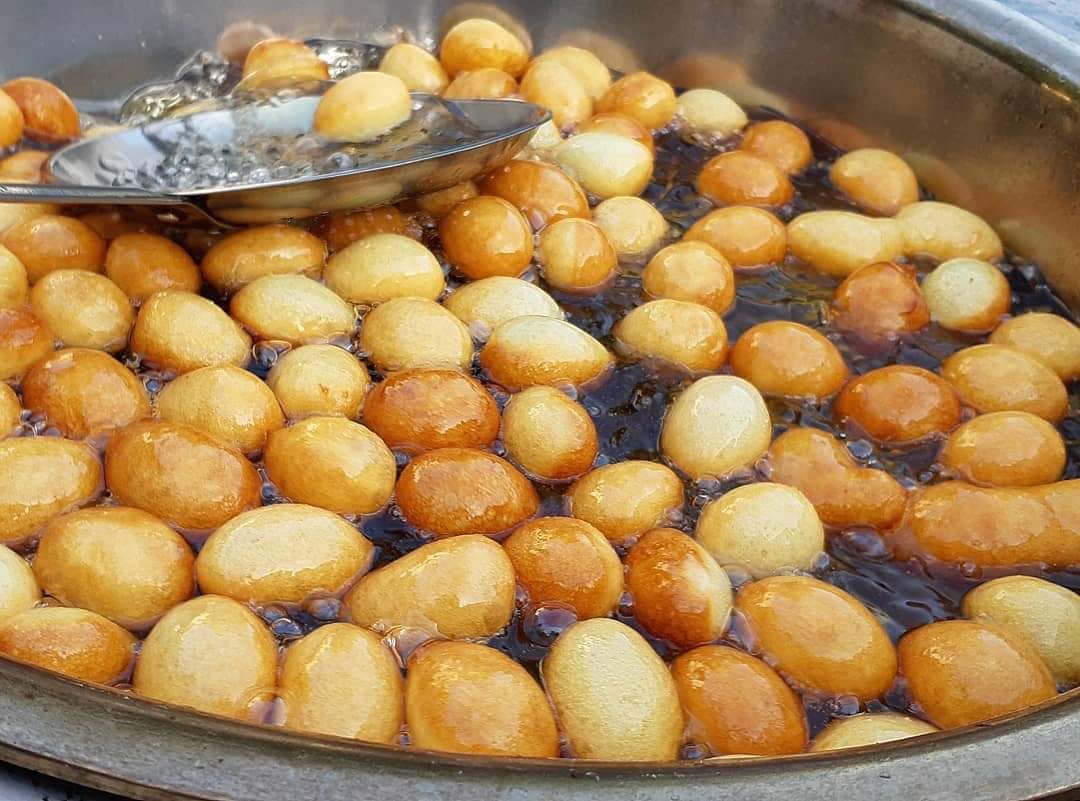 Celebrations start on the eve of the feast of Saint Spyridon (11th of December), where households prepare "Loukoumades t' Agiou" (translates as Saint's Donuts), a special version of the famous "Loukoumades" - the crispy dough balls covered in aromatic syrup and sprinkled with chopped nuts or cinnamon that you can enjoy all around Greece. This is a custom dating back to the Venetian times when locals used to eat these delicious sweets in order to bear the cold and stay awake when they went on a vigil in Saint Spyridon church. This custom survives till these days and today Corfu is filled with a festive atmosphere; streets lit up for Christmas, locals wishing each other "Hronia Polla" (a wish that Greeks use in all festive days), and hundreds of small vendors selling Loukoumades topped with honey or cinnamon in every Kantouni (narrow street in Corfiot dialect). Many cultural associations around the island offer these sweet treats for free on this special day while many locals prefer to prepare these at home using recipes that include hidden secrets that have survived since the Venetian period!
Greek Loukoumades Recipe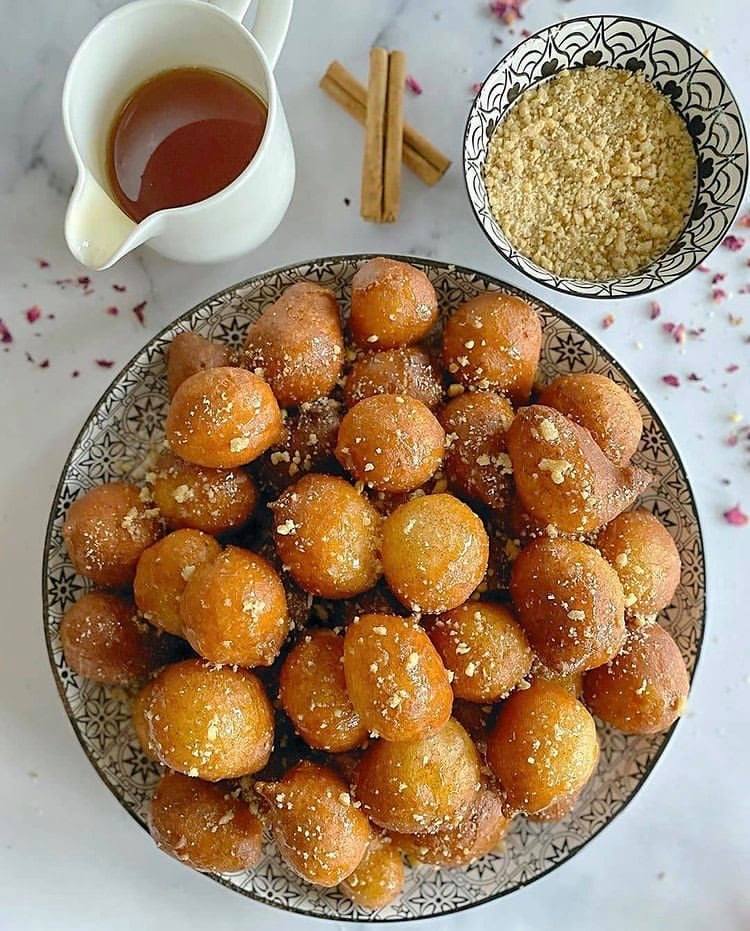 If you are are looking to make your own delicious Loukoumades at home, check out this popular Loukoumades recipe:
Ingredients
• In a mixer's bowl add the water, the sugar, the yeast, and mix with a hand whisk to dissolve the yeast.
• Add the cinnamon, the seed oil, salt, the honey, and whisk.
• Add the flour and beat with the paddle attachment at high speed, for 3-4 minutes, until the ingredients are homogenized.
• Transfer the dough into a bowl, cover with plastic wrap, and allow about 1 hour for it to double in volume.
• Place a deep frying pan with 400ml seed oil over medium-high heat. Ideally, you need the oil to reach 170ο C (340ο F). Put the remaining seed oil in a mug with a spoon.
• Take a little of the dough with your hands and squeeze it in your palm. The mixture that will come out between your thumb and index finger, take it with a spoon. This way, you will help the dough slip into the oil.
• Fry in batches for 4-5 minutes, until they are nicely golden and cooked through. Remove and place on paper towels.
• Serve with honey and cinnamon.
Whether you are a sweet tooth or not, don't miss the chance to walk around the beautiful Corfu Town this evening, enjoy the freshly prepared, delicious Loukoumades and soak up the city's festive atmosphere!

Hronia Polla from Corfu!!