Corfu is widely considered one of the most beautiful islands of Greece, renowned for its unique natural beauty, exotic beaches, historic monuments and fascinating multicultural heritage, all weaving a powerful spell on its visitors. Located on the northwesternmost part of Greece, the island has been strongly influenced by the Venetians, French and British who all occupied the island in different periods. Corfu is one of the most visited islands of Greece, attracting approximately 1,5 million tourists from all over the world mostly in the summer tourist season (April-October).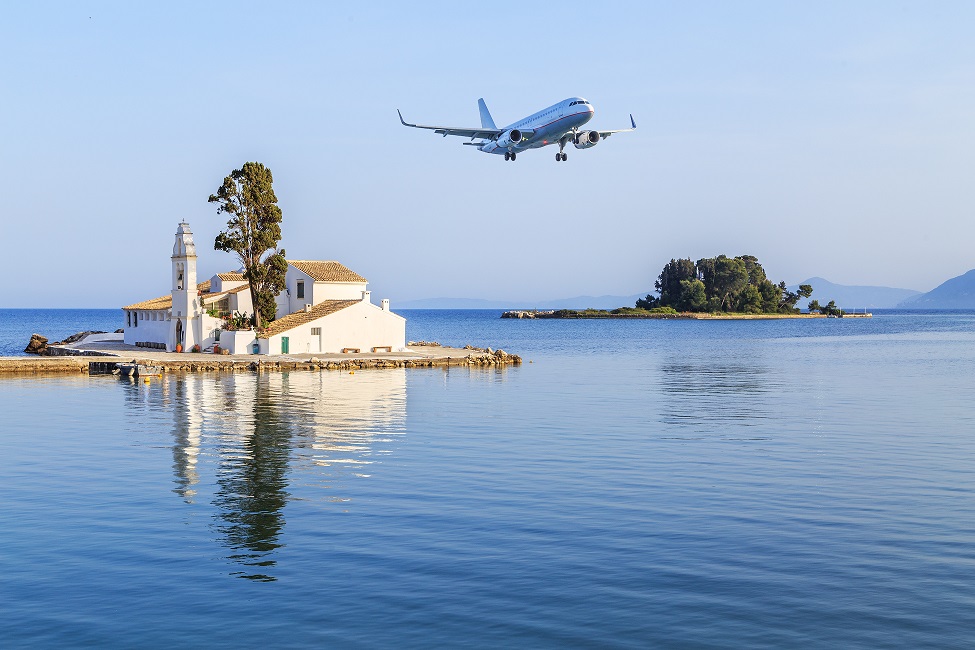 Getting Around Corfu Airport
Passengers flying to Corfu land at Corfu International airport which lies just over a mile south-west of Corfu town. Corfu Airport is also commonly referred to as Ioannis Kapodistrias airport, in honour of Ioannis Kapodistrias, the significant political figure and First Governor of Greece who was born to a distinguished Corfiot family. The airport is served by a number of airline companies, most of which only handle seasonal flights, including British Airways, Easyjet, Ryanair, Thompson, AerLingus, Aegean Airlines, and Lufthansa. Passengers arriving at Corfu Airport can make the most of the available facilities including duty-free shops, ATM, currency exchange, snack bar cafés and a free Wifi Connection. However, the most important for anyone arriving at Corfu Airport is to get to your hotel as soon as possible so that you can check-in and start your wonderful holiday! But what is the best way to get from Corfu Airport to your Corfu hotel? Let' s take a look at some of the different Corfu Airport Transfer options available to you!


Corfu Airport Transfers Options
1. Public Transportation- How to get from Corfu Airport to your hotel by bus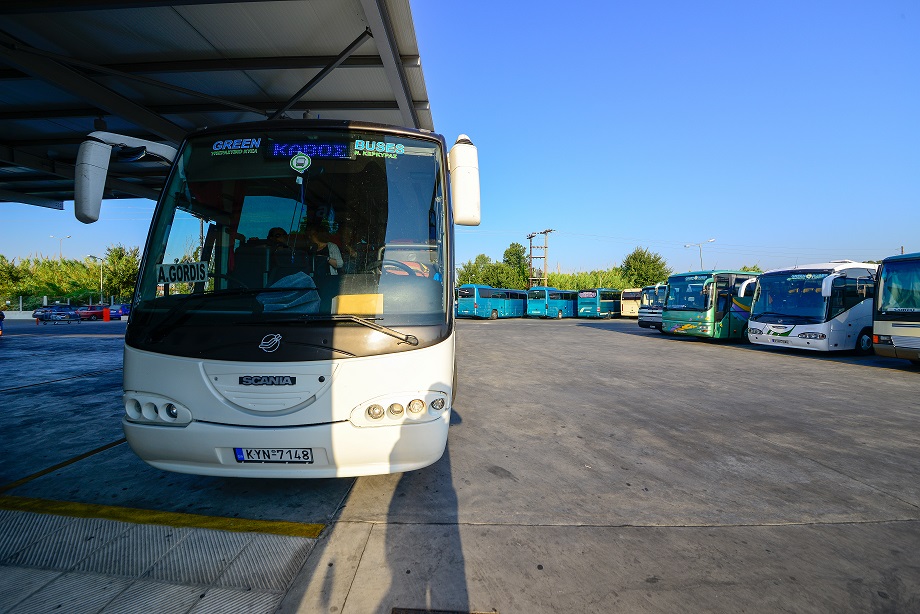 Corfu is a big island with a large number of resorts scattered around the island -from the north to the south and from the west to the east. Some of these resorts are located quite close to the airport (e.g. Corfu Town or Kanoni - approximately 10 minute drive) while others are located quite far and it can take more than 1 hour drive to get there from the airport (e.g. Sidari or Roda on the north or Kavos on the south of island). Unfortunately, there are no buses directly connecting Corfu International Airport to the various resort areas but at the airport you can take the Blue Line Bus No.15 to get to the KTEL Green bus station (just 10 minutes away), from where all Green Line Buses depart to any resort on the island.

It is quite easy to find the Blue Line bus stop, as is located right outside the main terminal exit of the airport. If you have difficulty finding it, then please follow the signs or ask any of the airport staff, who will be happy to help. The price of the bus ticket is 1,20 euros for adults, 0,90 euros for university students and 0,60 euros for children or school students. Tickets can be purchased from vending machines at the airport or directly from the driver for an extra 0,50 euros. Please note that the Blue Bus No.15 is only available once every hour so waiting time can vary a lot and depends on your flight's arrival time. For updated information including the latest bus timetable, please always check the official Corfu Blue Bus line website:https://www.astikoktelkerkyras.gr
Once you take the Blue Bus and arrive at the Ktel Green Bus Station, you will have to buy a second ticket for the Green Bus Line to your resort, which you can easily from the KTEL offices. The price, as well as the duration of the transfer, vary depending on the location of your resort. You can see below some indicative information to get an idea. Please confirm all this information at the official Green Bus website: https://greenbuses.gr/

Indicative Green Bus Prices to Various Resorts in Corfu
Corfu Airport-Barbati: Duration: approx. 50 minutes/Price: 2,20 euros
Corfu Airport-Paleokastritsa: Duration: approx. 1 hour/2,30 euros
Corfu Airport-Sidari: Duration: approx. 1,15 hour /3,40 euros
Corfu Airport- Kavos: Duration: approx.1,30 hour /4,40 euros

2.Corfu Airport Taxi Rank- How to get from Corfu Airport to your hotel by taxi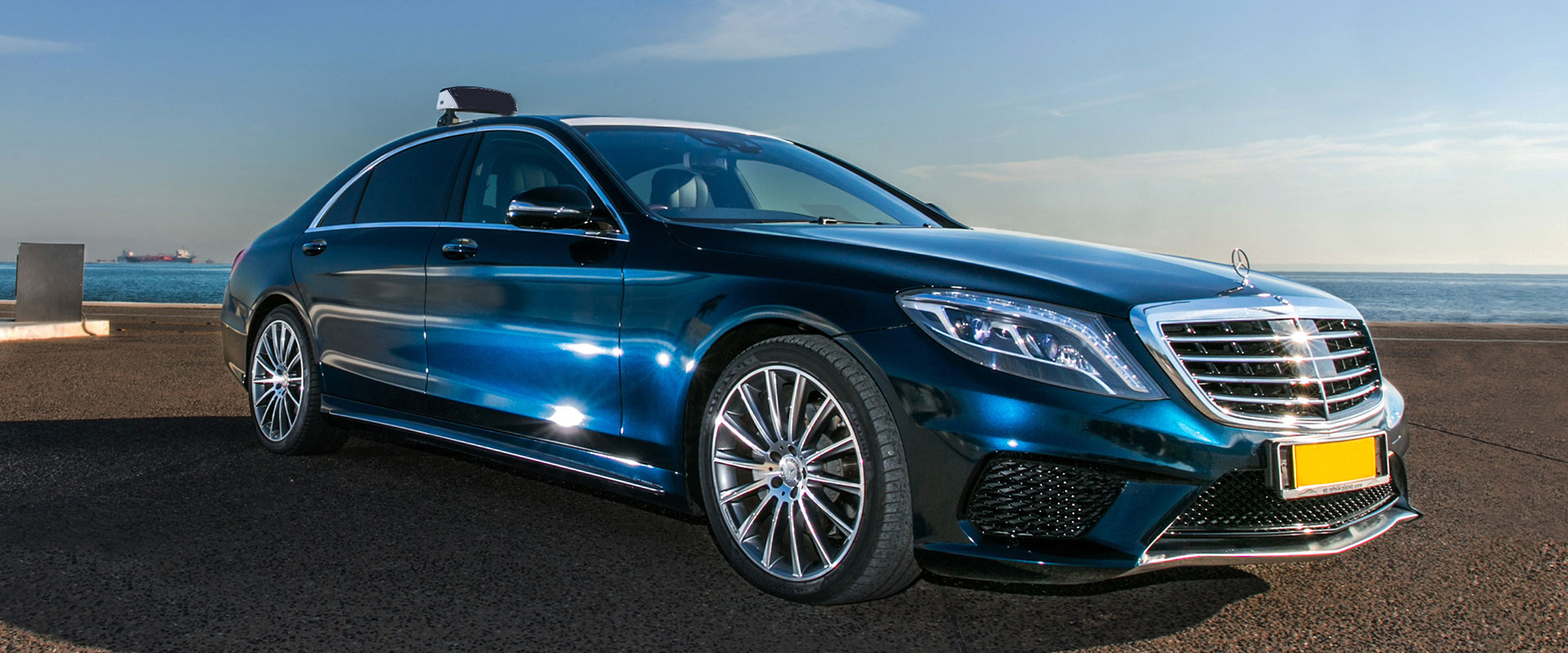 Taxis are considered an easier, faster and more comfortable way to get from Corfu airport to your hotel. As soon as you step out of the main terminal, you will find the taxi rank - taxis in Corfu are dark blue and have a distinctive black and yellow roof sign. You will have to board the first taxi in line and the duration of the transfer depends on the location of your hotel. For example, if your accommodation is in Corfu Town, then it should take you only around 10 minutes to get there while for some resorts such as Sidari on the north coast of the island for example, it can take you up to 1 hour to get there from the airport. Please also note that in Corfu there are not fixed taxi fares but prices depend on the distance from Corfu airport to our hotel, the time required for the transfer as well as the time of the day that you travel (extra cost at nighttime). Although taxis are a more comfortable way to arrive at your hotel compared to public busses, please note that depending on the day and time that you arrive, you may have to queue until you can find an available taxi which can be unpleasant on a hot summer day or at nighttime. Therefore, we highly recommend that you book your Corfu Airport transfer in advance.
3. Corfu Airport Private Transfer - How to get from Corfu Airport to your hotel by Private Corfu Airport Transfer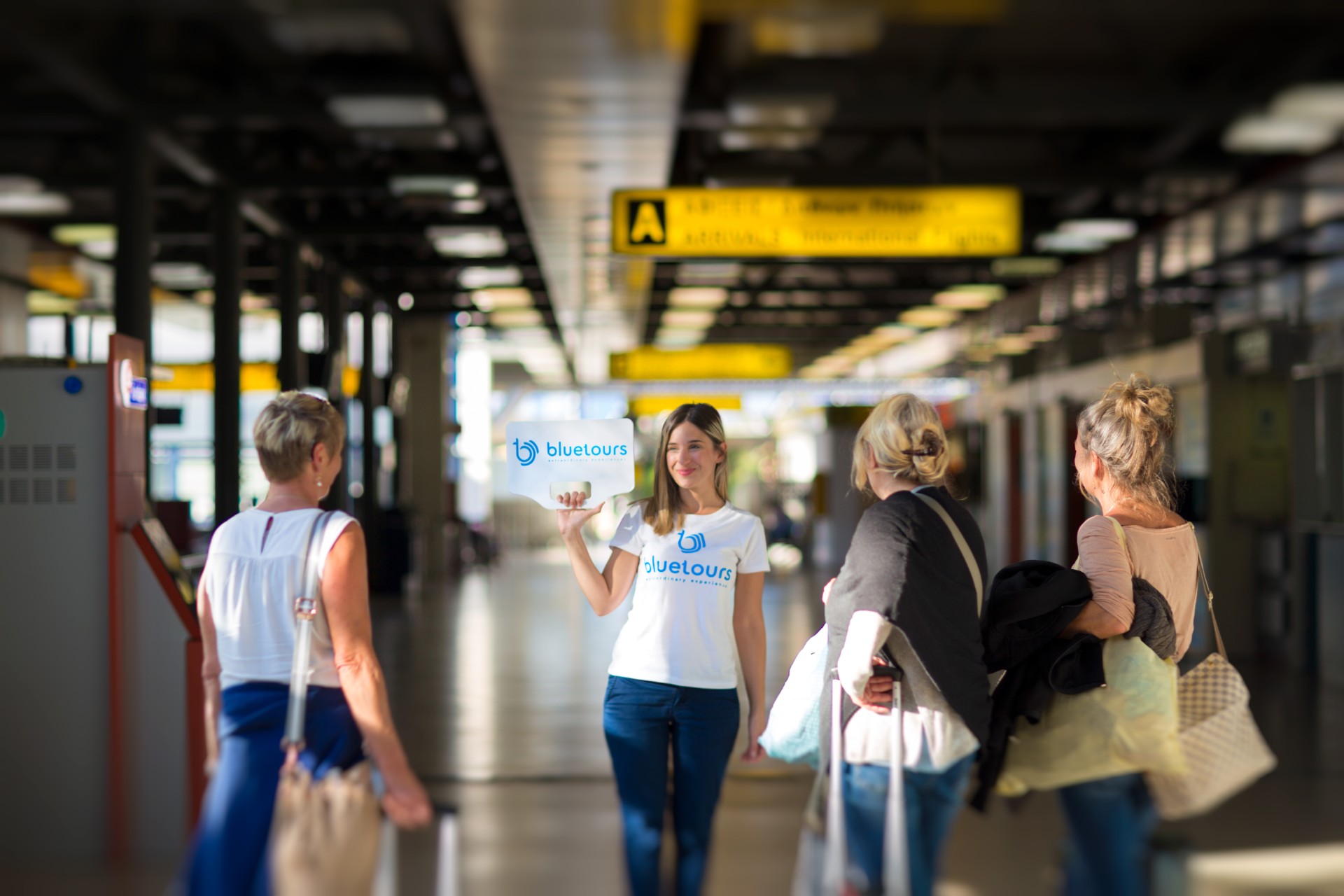 The easiest, fastest, safest and most reliable way to get from Ioannis Kapodistrias Corfu Airport to your accommodation is with a pre-booked, private Corfu Airport transfer. There are several benefits to arranging your transfer in this way. First, after a long, exhausting journey all you will want is to get to your hotel as soon as possible! By prearranging a private airport transfer, you don' t have to worry about how or when you're going to get to your resort – your experienced driver will be there for you as soon as you arrive! After getting a warm welcome, you will immediately board your vehicle and head to your hotel without having to wait in a taxi queue or look for a bus. In addition, the price of the ride- which is usually the same or lower than that of an ordinary taxi- is agreed in advance at the time when you make your booking so there are no surprises on the spot. It is therefore much easier for you to know what your expenses are in advance and stick to your holiday budget. Further, a prearranged airport transfer is much more comfortable. Your friendly driver will help you with carrying your luggage and you will avoid the struggle of searching for the bus that you need, carrying your luggage onto a bus, having a long bus ride to wherever you're staying which may not be next to the bus stop. Last, a prearranged transfer is much more flexible and can be totally customised to your own needs and preferences. For example, you can request a baby seat or space for extra luggage and even if your flight is delayed, your driver will have been informed in advance (as they always track your flight to know if you arrive early or late) and ensure that they will still be waiting to take you smoothly in a comfortable air-conditioned vehicle to your hotel.

A pre-booked private transfer ensures a stress-free arrival to Corfu and It is the best way to start your holiday. A perfect welcome to the island!

Why book with Blue Tours
At Blue Tours Corfu, we are proud to be the leader for Private Tours, Shore Excursions and Transportation in Corfu. We love what we do and we are committed to providing only exceptional travel experiences to our guests which has been rewarded with 99% excellent reviews on TripAdvisor and Google and our ranking as No1 in the category Corfu Transportation. We are also proud to have received the award ''Tour Company of the Ionian Islands'' by the 2019 Travel & Hospitality Awards as well as the Silver Award in the category ''Travel Experience'' in the 2020 Greek Tourism Awards, the biggest awards in the Greek Tourism Industry. Here are 5 reasons why you should book your Corfu Airport Transfer with Blue Tours Corfu:
1. Ranked No1 on TripAdvisor in the category Corfu Transportation
2. Award-winning team
3. Customized airport transfers
4. Local expertise
5. English-speaking, friendly drivers
6. Same price as a regular taxi
7. Driver will be waiting for you at Corfu Airport terminal even if your flight is delayed If

Planning your holiday and looking to book your Corfu Airport Transfer? Book your Corfu Airport Transfers or contact us to get a quote!